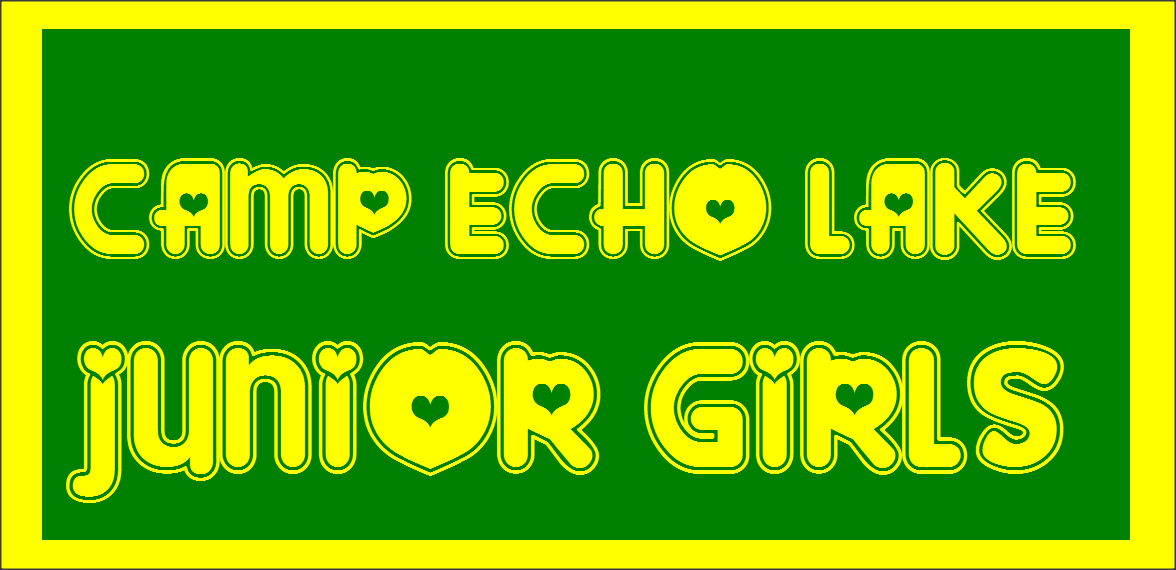 Junior Girls Head Counselor – Kelly Godzac
"FRUPPER VILLAGE"
The Frosh Girls joined the Upper Village Girls for a night of fun. This is an annual event that we call "Frupper Village," where our youngest campers get to meet, and hang out with, some of our older campers.
The night began with dinner together in the grove, followed by some bonding activities in the lodge, where the Upper Villagers taught the Frosh Girls new bracelet-making weaves, painted their nails and braided their hair.
Some of the Upper Villagers started as Frosh Girls, so this was a full circle moment for them.  They shared how important camp is to them, and how much it has impacted their lives throughout their childhood. It was really nice to watch the Upper Villagers forming friendships with the Frosh Girls, who look up to them as role models.
The Frosh Girls were excited to take a tour of Senior Village and attend a Senior Village lineup! They ended the night together in canteen playing foosball, eating snacks and, of course, dancing.
All of the girls had so much fun together during "Frupper Village."  Some of the Upper Villagers even joined the Frosh Girls the following morning at polar bear swim.
Overall, "Frupper Village" was a great experience for the Frosh Girls.  They got to experience a different side of camp in Senior Village, and meet some Echo Lakers who they don't normally get to interact with on a regular basis.
UPPER JUNIOR CAMPFIRE
The Upper Juniors had their final campfire of the summer with Laurie. Once again they learned Echo Lake trivia, sang songs, showed off their professional s'mores- making skills and listened to a story entitled
The Giving Tree
.
As they reflected upon everything that they are thankful for here at camp, and closed the night with the song TAPS (a campfire tradition), I noticed that all the Upper Juniors very naturally put their arms around each other.  Watching them with their arms around each other during the campfire reinforced to me that the girls have made strong connections with each other, and have built incredible friendships this summer.
DANCE THE NIGHT AWAY!
On Tuesday night, the Junior Girls got together in the rec hall, and had one of the biggest (and best) dance parties that I have ever seen at Echo Lake!  Our dance instructors taught them some new dances, and the girls just went absolutely crazy! It was a great way for them to burn off some extra energy at the end of the night, and have a ton of fun with their friends.
INTER-CAMP
The Junior Girls participated alongside the Inter Girls in a swim tournament at Echo Lake this past week. Our girls did a great job, earning many first and second place ribbons to take back to their bunks with them!
APACHE RELAY
One of the greatest days at camp for me each summer is the Apache Relay. What I really love about this day is that every camper is given an important task or event that, in the end, benefits their team. It makes each camper feel so important, like they are a part of something big.
During this year's Apache Relay, I saw so much good happening.  It reminded me of why I love Echo Lake so much, and how special each camper is in their own way.
I saw Junior campers helping their teams increase their lead in the relay, and leave their event with the biggest smiles on their faces!  I saw other Junior campers panic, and begin to feel defeated, until an LIT cheered them on and picked their spirits right back up.
My favorite part of this year's Apache Relay was the end of the race.  When the final Mohawk runner crossed the finish line, the Mohawk team cheered with joy!  They briefly celebrated their victory, and then lined right back up to help Iroquois cheer on their runner, who received the same amount of applause as the Mohawk runner. It wasn't something that any of our campers were told to do, but from the LITs down to the youngest campers, they just did it because great sportsmanship is the way of life here at Echo Lake.
COMING UP THIS WEEK
The amount of fun jam-packed in to the next week for the Junior Girls is out of this world! On Sunday we will be having our camp carnival.  On Monday, the girls will be heading out on their big trip to Waterslide World followed by counselor cabaret at night. On Tuesday, the girls will be participating in a fundraising marathon for
Project Morry
, followed by a movie and popcorn outside under the stars. On Wednesday, they will be participating in the "Fuzzy Feud" finale. On Thursday, they will be leaving camp for Putt Putt (mini golf), which was rained out last week. It will surely be a pleasant surprise for the Junior Girls!