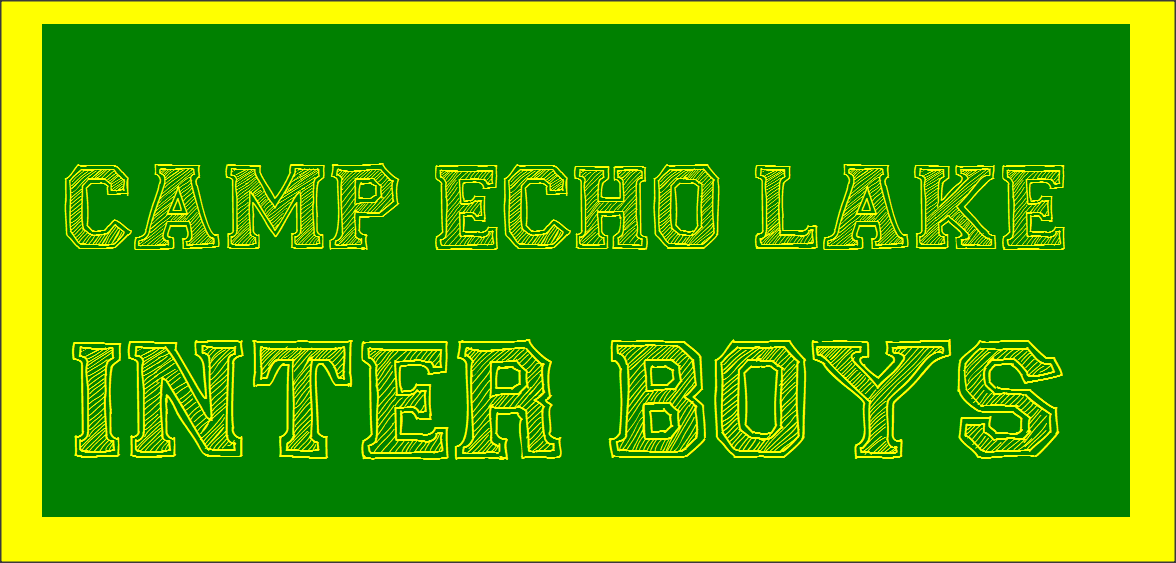 Inter Boys Head Counselor – Matt LeMoine
LOWER INTER BOYS POOL PARTY
This past week, the Lower Inter Boys had one of the most memorable evenings of the summer at their pool party.  The boys bonded over games of volleyball, basketball and water polo, and enjoyed lounging in tubes as the music played in the background.
UPPER INTER BOYS BINGO
Operations Director,
John "JP" Pezzolla
, hosted Bingo, a new evening tradition for the Upper Inter Boys and Girls.  Each bunk competed against each other in exciting, "high-stakes" bingo matches to win bunk prize packs that included: soft toilet paper, air fresheners and extra canteen snacks!
CARNIVAL
One of the oldest (and best) Echo Lake traditions – Carnival – took place this past weekend, kicking off the final two weeks of amazing all-camp events. Each of the boys ran a station at Carnival, and also got to enjoy curly fries, hamburgers, hot dogs, popcorn, cotton candy and everyone's favorite…ZAP Lemonade!
APACHE RELAY
The Inter boys played a prominent role in this summer's Apache Relay.  As the leaders on Main Camp, the Inter Boys are responsible for some very important legs of the Apache Relay, playing a role in over 50 of the 117 events.  I have to give a shout-out to all the boys who competed in one of the closest Apache Relays that I had ever experienced in my years at Echo Lake.
LOWER INTER BOYS CAMPFIRE
On a bittersweet evening this past week, the Lower Inter Boys got to enjoy their final campfire of the summer.  They had a great time singing songs and eating s'mores while listening to a story entitled
The Giving Tree
.
UPPER INTER BOYS FLASHLIGHT SING
In another classic Echo Lake event, the Upper Inter Boys competed against each other in a game of Flashlight Sing, which was led by
Tony Stein
.  Each group is given 3 categories (ex. colors, animals, transportation), and they must think of as many songs as possible that feature those themes. Tony then picks groups at random to sing a piece of a song in a random category, and awards points based on relevance and performance. It is always a great night of competition for the boys, and they all had a lot of fun.
LIT RECORD BOOK NIGHT
The Inter Boys competed in various events around camp on LIT Record Book Night as they attempted to break records previously set in 2007.  Led by the LITs, our boys set new records in two basketball categories  (free throw percentage and longest backwards basketball shot made), and also set the record for the longest water balloon toss.
INTER-CAMPS
All inter-camps went very well this week for the Inter Boys.  Each team had a great time and won a few games as well. This past week, the Inters competed in the following inter-camps:
Upper Inter Boys Basketball Tournament
Lower Inter Boys Basketball Tournament
Inters Hockey vs. Brant Lake (Echo Lake won 5-4, avenging a shootout loss earlier in the summer).
LINEUP UPDATE
With only two weeks remaining, the Pines Police Precinct is working their hardest to clean up the streets of Echo Lake. This past week, our resident psychic
(Laurie Rinke)
came to the precinct and helped us track down some suspects for our case. Next week we will likely be visited by the commissioner
(John Pezzolla)
to make sure that we have been performing at an adequate level. Stay tuned!
COMING UP THIS WEEK
Great Escape, Upper Inter Boys inter-camp at South Woods, Marathon, Movie Night under the stars (Star Wars Episode IV), Fuzzy Feud Finale, Upper Inter Boy's last campfire on Main Camp.