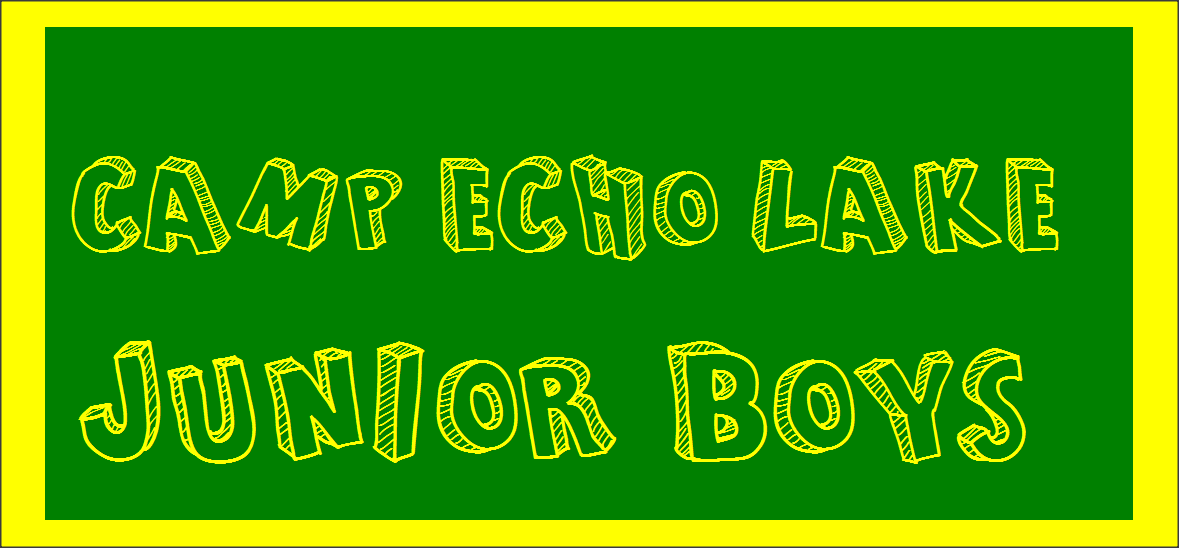 Junior Boys Head Counselor – Patrick McNeece
HUDSON RIVER TRIP – "HAMMOCK WORLD"
This past week featured a couple of really neat activities. The Trek staff and I took the boys on a special trip to the Hudson River. Our first stop was at the local fish hatchery down the road. We were welcomed by a lovely worker named Kathy, who gave us tour of the hatchery. We explored the egg incubators, as well as several hundred newly hatched rainbow and brook trout. It was awesome to see how interested the boys were in the hatchery operation.
After the hatchery, we went down to the Hudson River and caught some crayfish.  The Trek staff surprised us by setting up five incredibly comfortable hammocks alongside the river. The boys have dubbed this location "Hammock World!"
PUTT-PUTT MINI GOLF
The Junior Boys also went on their second off-camp trip to Putt-Putt (mini golf) in Lake George on Tuesday night.  Grouped into foursomes, the boys played the course almost until dark.  Located right next to Lake George, the course provided a gorgeous spot to relax and hangout with friends.
POOL PARTY!
The Lower Junior Boy's had a private pool party Monday evening, which was a huge hit! The boys feel very special when they have the pool all to themselves, and they made the most of it, partying the night away!
"FRUPPER VILLAGE"
The Frosh Boys enjoyed a wonderful evening program with the Upper Village Boys. We call this annual event, which takes place the fifth week of each summer, "Frupper Village."
This special event is a great way for the oldest group of boys in the Senior Village to meet, and hang out, with the youngest boys in Main Camp. They shared stories about camp and played a few rounds of the classic Echo Lake game, "The Mostest."  We ended the evening with two huge games of knock-out, with the Frosh Boys emerging victorious!
"Frupper Village" offers a wonderful opportunity for the Frosh Boys and Upper Village Boys to mingle and get to know each other, something that they don't get the chance to because of their different schedules and living arrangements.  This important tradition helps the Frosh Boys feel a sense of connection as they meet boys that they can look up to as mentors and role models from the Senior Village. It also offers the Upper Village Boys an opportunity to embrace being a kid again, and relive the memories of being the youngest boys in the camp.
APACHE RELAY
Friday was perhaps the most electrifying Tribal event at Echo Lake – the APACHE RELAY! Apache is the ultimate team event, as every camper plays a role for their team.
This summer, the Main Camp Apache Relay featured 117 events. The Junior Boys were spread across the entire camp, as they participated in an array of events ranging from egg tossing to swimming in the lake.
As the lucky announcer of the Apache Relay, I got to paint a picture of the entire event, announcing updates over the intercom to the entire camp.  In my nine years at Echo Lake, I have never seen such a close Apache Relay finish.  Neither team ever held more than a few-minute lead throughout the event; the "glory runners" crossed the finish line less than a minute apart from each other. A huge shout-out to the LITs and their leaders for hosting a successful event that the campers will remember forever!
One thing that is very special about Echo Lake is the passion and respect that our campers show, not only to their teammates during Tribal events, but also to their friends on the opposing team. It's always cool to see every camper waiting for the first team to finish, and then waiting to cheer just as loudly for the second place finisher.
ECHO LAKE RECORD BOOK
The boys really enjoyed an activity the LITs hosted this past week called "Echo Lake Record Book," which has just returned this summer after a few-year hiatus.  The boys were glad that it returned this summer.  They had a great time trying to break old records and set new ones.  We had very positive results, and many of our Junior Boys will now be featured forever in the Echo Lake Record Book!
INTER-CAMP
The Junior Boys didn't have any scheduled inter-camp events this past week, but I'm proud to say that we did have a few of the boys play-up in a few sports (basketball and soccer) with the Lower Inters. Echo Lake won their basketball game and had a draw in soccer.
BONDING MOMENTS
With five weeks under our belts, the boys are really meshing well with each other.  It's amazing to see how far they've come since the summer began.  Any disagreements at this point are few and far between, and I'm proud to say that the boys have learned to solve any that do occur on their own, and very quickly.  I think that the boys have begun to realize that the end of camp will be here sooner than any of us would like, and that spending these last few weeks with their bunkmates is really special, so there is no time to waste.
MAKING MEMORIES
As a Head Counselor, my goal is to support the campers and staff in all aspects of their camp experience. This week, in order to help the kids and staff realize how important it is to savor every day at camp, I circled up with each group and shared the following quote with them…
"We didn't realize we were making memories, we just knew we were having fun!"
After the quote was read, the campers and staff had a few moments to reminisce about their experiences so far this summer. I then challenged them to find ways to create more fun and more memories these last few weeks of camp. Their responses were amazing!  Taking the time to talk about memories was a helpful reminder to everyone to enjoy every minute left of camp, and fully appreciate how cool this place is to spend their summer!
BOYS CAMP LINEUP
Boys Camp lineup is getting more and more intense as Prangle, Drangle, The Mountie and Royal Guard continue to operate in a business-as-usual manner, even though the authorities are hot on their trail. A criminal was caught stealing "brikes" (that's right brikes with an "r") and was taken down. Will more criminals be captured, or will the precinct full of unqualified officers be taken down?  Stay tuned…
CAMPER CHALLENGE!
Matt LeMoine
and I have been challenged by many of the boys at evening lineup. After several days of training, we decided that we were ready to take them up on their challenge.
We took to the basketball court to battle a few Junior Boys this week. In brief… we were not successful, and our shooting percentage plummeted!  In our hockey challenge, were taken down and outmanned by three Canadians, who beat us 5-4. We are planning on spending the off-season training harder so that we can come back next summer stronger and more prepared.  Revenge will be sweet!
COMING UP THIS WEEK
This coming week is ACTION-packed for the Junior Boys! Week 6 features NHL Day, NCAA Day (basketball) and MLB Day.  The Junior Boys will also be heading out on their big trip to Water Slide World!