Read all the articles from this issue.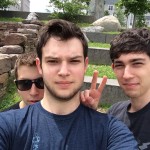 We are so excited to share that 3 CEL alums – who remained good friends but lost touch in the college application rush – are serendipitously attending college at University of Vermont together!
From left to right are Zach Hurwitz, Teddy Kreutzer and Sam Tell at freshman orientation! Zach and Teddy are both in the College of Engineering and Mathematics and are going to be roommates!
---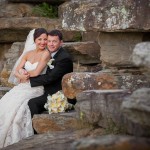 Steve Anderson was in touch recently to send his friends from Echo Lake some photos from his wedding weekend – sending congrats to Steve and his new wife, Amy.  They both enjoyed their visit a couple years ago to camp – we hope to see them again soon!
---
Alum, Steve Leeds, shared with us recently, "Even at age 69,  I am still doing Echo Lake stuff.  I am a volunteer guide at the Holocaust Museum and at the original Smithsonian Institution Museum and — this is the point — the Natural History Museum's new kids-oriented section call Q?rius — it is JUST LIKE the nature stuff I remember doing at Echo Lake (high-tech-ized from the 60s into the 21st century) and it focuses on camp-aged kids in order to encourage them in science topics, so when I am working there every Monday, it is just like being back at camp!"
---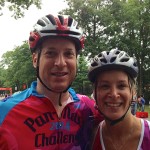 Nancy & Peter Saperstone. Participated in the  2014 Pan Mass Challenge. Nancy's goal this year was to raise $10,000 and she went over her goal!  This year's ride is expected to raise $40 million for cancer research and is the largest single fundraising event in the country (by more than 4 times!)
Nancy shared with us, "It's hard to explain the feelings when you ride in such a powerful event, but it is truly inspiring. Cancer is such a big thing that affects so many people and we ride along side survivors, doctors, current patients, family members and people who want to find a cure – everyone has a story. Once again, I was blown away by the number of people lining the course, standing in the pouring rain and the dark of morning, saying thank you."
Way to go Nancy & Peter!
---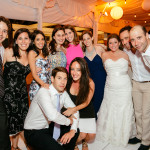 Check out the Green and Gold love at Raina Krasnow's wedding  on July 12th, 2014!  Along with many of the LITS of 2001, Raina and her husband, Tracy Mehlman, had a wonderful celebration.  Congrats, Raina & Tracy!
---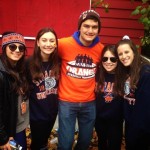 Julia Haber, Jessica Tucker, Noah Tucker, Isabel Greenberg & Rachel Feldman – sent us this awesome photo of Green and Gold spirit all dressed in Syracuse Orange!
---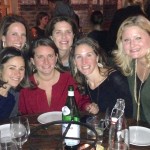 What a fantastic moment – check out: Naomi Lieberman Bush, Keri Weingast Greenseid, Audrey Rosenberg, Jessica Brodsky Miller, Wendy Lehman Buchanan, and Laurie Rinke. Their friendship began at Camp Echo Lake and is still going strong nearly 30 years later! After some time to catch up on everyone's current lives the conversations, and laughter, quickly turned to stories from when we were campers, going on our 4n4 trip, memories of our CIT summer, and working on staff at CEL! A great night was had by these lifelong camp friends!
---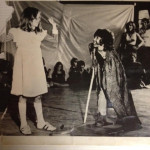 What a throw back! A terrific photo of alums Joann Michelin and Greg Miller performing in the "Inter A" 1973 CEL rendition of Rumplestiltskin !! Shh, don't tell anyone, but Joann remembers stealing this picture  off the bulletin board near the flagpole!!
---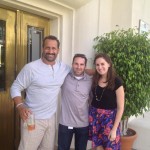 George Stein recently had lunch with Jonathan and Stacey Goldstein, who both work for Fox.
---
Congrats to both Gabe Rotter on the birth of his new son Milo in the fall and his sister Emily Rotter on her baby boy, Calvin Henry Lerer…Frosh Boys 2023?!
---
Tony was in LA not long ago and was lucky enough to have a West Coast CEL Reunion! Joining Tony was: Jeff Gross, Jeff Kahn, Jon Kohn, Jon Kay, Greg Resin, Jack Kolodny, Matt Fisher, Adam Pertofsky, Hank Steinberg, Corey Goodman, Lauren Feiner & Adam Schiff
---
Ellen Babby reached out not long ago to share some happy news and updates, "We had the Bris for Heather [Babby]'s son Dylan yesterday. Dave and Debbie Abbey joined us. We are so excited that Heidi [Cohen]'s daughter Alex [Chizzik] will attend camp next summer, continuing the Babby lineage! Hopefully our grandson Josh (now 6) will also join the CEL family. Our nephew, Adam Cohen's son Harry (7 years old) is another possible future Echo Laker!"
---
Best wishes to Danny Kagan, CEL Alum, and fellow camp owner on the birthday of his first grandchild Aviva.
---
Echo Lake has lost a dear friend in Bob Lieberman. Bob was the dad of Aaron, Miriam, Joel and Naomi. Echo Lake's next generation, are his grandchildren Emma, Jack and Dalia. We mourn with them and we, too, will miss him.
---
We offer our deepest sympathy to Debbie Grau on the loss of her mother.
---