Dear Echo Lake Families:
We trust this letter finds you and your families safe and healthy.
We have spent the past few months, like you, going through the various stages of shock, sadness, anxiety and frustration as we come to terms with the many ways life has been impacted by COVID-19. We are so grateful for all of you and the many ways you've connected with each other and with us.
As much as it feels surreal to say this and as much as it fills us with great sadness, we are writing today to let you know that Camp Echo Lake will not open this summer. This decision is a very emotional one for the two us, along with Emily and Amy. However, after an exhaustive and clear-eyed assessment, we arrived at the agonizing decision that there was no clear path to open camp safely for our entire camp community.
There is no question that we are all in greater need of camp this summer than ever before. We feel that to our core, and we know that you and your children do as well. Nonetheless, what guided us to our decision were considerations around the physical, emotional and psychological health of our campers and staff and the significant uncertainty created by COVID-19. We know your children – and children everywhere – have been through a very difficult few months, and summer camp was the hoped-for "light at the end of the tunnel." We are devastated for your children that we cannot bring it to them right now.
We know that first and foremost we will all mourn together for this summer. Children will have many emotions about this. From grief, to anger, to relief (from anxiety over attending camp with COVID-19), to acceptance, our campers and staff will have these feelings and will need room to express them in the timing that works best for them. We hope that they can also hold onto the feeling that camp is not just about a "place." We will maintain the bonds of our camp connections, we will build each other up, we will shower each other (even from a safe social distance) with an abundance of love, and we always have the Camp Echo Lake community, even if we cannot be together in Warrensburg this summer.
To help answer some of the questions you likely have, we have attached an FAQ, which we hope will help you better understand how we arrived at our decision. It also includes information for our LIT and 4n4 campers and information about the payments you have made for camp. We know this is a lot to take in and that you may have further questions for us. We are both available to speak with you or your children at any time. We will reach out in the near future with information about the ways we will continue to keep our community connected.
Please know that, like your children, we too are heartbroken. Our first priority is the health and safety of our entire camp community, even when that results in a decision like this. We will miss each and every one of you terribly this summer. Our campers, staff and camp parents are, and will always be, in our hearts every single day. We wish you all good health and we send you, as always, Warm Inner Glows.
We wanted to allow you time to discuss this information with your children. When you think it is appropriate, please share with them this brief video message from us to them.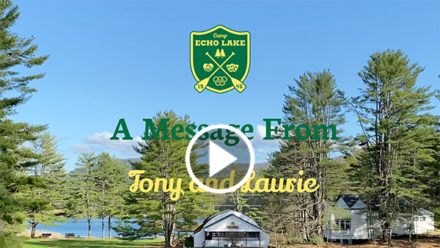 Much love,
Tony and Laurie