Directed by Arup Dutta, USPTA Level 1 Professional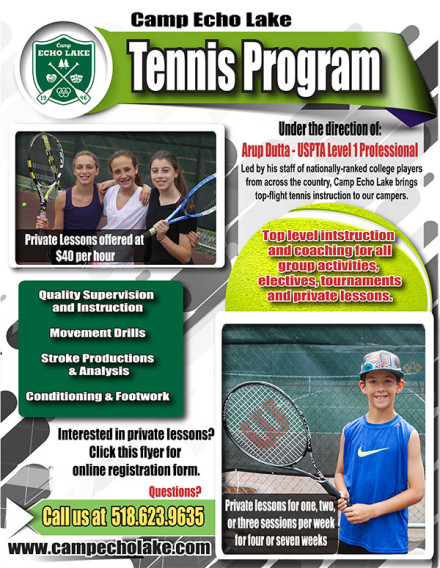 Offering:
Quality Supervision & Instruction
Stroke Production and Stroke Analysis
Progression Teaching Method for Beginners
Tournament Training & Strategy for Advanced Players
Movement Drills
Conditioning & Footwork
Our tennis staff consists of nationally ranked college players from all over the country.  Private lessons give campers one on one, personalized attention in order to help them achieve their maximum tennis potential.
Private lessons are offered to the campers for $40 per hour and advanced sign-up is required.
If you are interested in private tennis lessons for your camper during the 2017 season, please login to the Parent Dashboard and click on the 'Tennis Sign-Up' button. You will find a flyer that you must print, fill out, and mail to Camp Echo Lake c/o Arup Dutta PO Box 188 Warrensburg NY 12885 along with a check for payment. Please write  your Camper's Name and "CEL Tennis Lessons" on the memo line. To ensure we have proper staffing and court availability, payment must be made no later than June 1st to secure a guaranteed spot for your child. Payments are to be made by check, payable to Arup Dutta, and mail to: