At Camp Echo Lake we emphasize mutual friendship, respect, equality, and fun among all our campers and staff. That said, when you combine the like-minded camp community that we live in at camp, the deep friendship connections, and maybe a little Warm Inner Glow from Cupid, sometimes "Friends, Friends, Friends" turns into love…. Here are some of the many happy couples that met or fell in love at Camp Echo Lake. Happy Valentine's Day to our happy couples, our campers, our staff, our camp families, and our Alumni! May your day be filled with love, Green & Gold, and Warm Inner Glows!
In June, we celebrated our 45th Anniversary  – it all started in 1968 at our favorite summer home, Echo Lake, when we were only 17!   Ellen came to camp from Montreal and Lon, from Valley Stream, New York.  We were a couple for five summers and were married in Montreal in 1973.  Amy and Morry attended the wedding; after the ceremony when we were walking back down the aisle, Morry blurted, "Would have been just as nice on home plate on the Lower Diamond!"  Since then, both of our kids, Ken and Heather, became Echo Lake alums – and our grandson, Josh, is now a third generation camper!  It was so special when Amy hosted a party in our honor last summer, marking the 50th anniversary of our relationship, of course with a green and gold sheet-cake! Echo Lake will always be at the heart of the Babby family. The picture was taken at camp in 1968.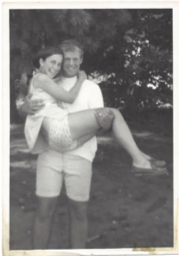 Sandi Green Dubin and Joe Dubin met at CEL as campers in the late 80s/early 90s – we are unsure of the exact year. Our groups merged in our Upper Village summer (1990). We started dating the summer after our freshman year of college (1994) at CEL when we were both GLs and that's when the picture at the MV flagpole area was taken. The last picture was from visiting day 2018 with our son who was a LJB during his 2nd summer at camp.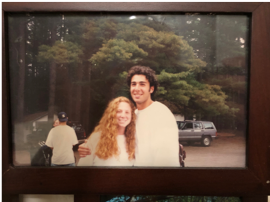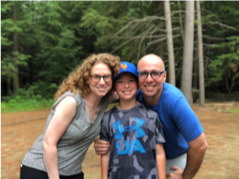 Nicole Rosen Wegweiser met at Camp Echo Lake Summer '94 our 4n4 summer. It was my first year, and Jay didn't pay me much attention, nor did I to him. I went to his 25th birthday party years later and we hit it off and began dating. We've now been together 15 years, married 11 years, and have two children together, Owen (8) and Piper (6.) Owen will be attending his first summer at CEL as a Lower Junior this summer. We are thrilled to be back to our roots and share the incredible experience with our son.
Matt Lemoine and Julie Zucker met on the first night of staff orientation in 2011 while playing rock, paper, scissors. Matt messed up playing (apparently Canadians play differently) and the rest was history. We are Head Counselors together at camp and are getting married September 1, 2019.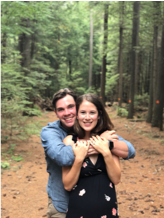 Peter Saperstone and Nancy Berk Saperstone met during counselor orientation, during the summer of 1989. Pete had just graduated from Union College and I was a rising junior at Vanderbilt.  Pete was assigned to go up to Montreal and ride the bus back to camp with the campers on the first day. He asked Morry to put me on the trip with him and the rest is history! We got married on January 8, 1994 and just celebrated our 25th anniversary!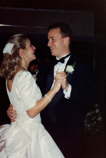 Mat Haskel and Kersti Kienitz Haskel met when they were placed in an activity group together during Staff Orientation week in 2010, their first summer at Echo Lake! They dated across the ocean between England and the US and then they got married on August 30, 2014!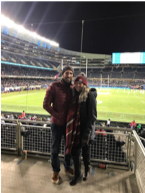 Jay Levine and Brenda Seifried Levine were both on staff in the summer of 1992, but it was during Group Leader Orientation in 1993 that they met and began dating. We went from Middle Junior Boys' and Girls' Group Leaders in 1993 to Boys' and Girls' Head Counselors beginning in 1998 and many camp adventures in between … and since! After countless road trips between Montreal and Rochester/Watertown, we were married in October 1999, which of course included a group sing performed by our camp friends. We've treasured 27 years of creating amazing memories together – many of them happening at The Lake and with our camp family and our three children who are Echo Lakers too!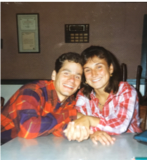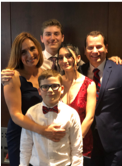 Allison Zucker and J.P. Begly have been together since the summer of 2002. They got engaged during Friday Night Services in 2010 and got married at Echo Lake in 2012. Last summer, their daughter Blake joined their family and she can't wait to start celebrating her birthday at camp in a few years!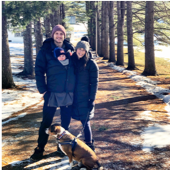 Matthew and Sharifa met at Camp Echo Lake 13 years ago and the rest is history. Matthew "Princess" Evans and Sharifa Vinson met at camp in the summer of 2006. Matthew worked at the waterfront and Sharifa was the dance head specialist that summer. They met during staff orientation and by the end of the summer, they had fallen in love. Camp came to an end and they had to part ways, Matthew back to England and Sharifa back to college at Northwestern in Chicago. Through long distance, Sharifa studying in England, Matthew immigrating to the US and cross country moves from DC to California, their summer love has endured. They've just welcomed their first child, London Maxwell Evans in 2019. "We still have very fond memories of Echo. Thanks, CEL for bringing us together."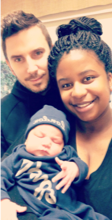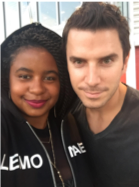 Both Laurie Rinke and Darby Langworthy were at CEL in the 80's and 90's. Laurie was the blonde curly haired camper showing her CEL spirit and Darby was the very tall hard working guy on the maintenance crew building, painting, and mowing. Although they knew each other a bit while they were growing up and on staff together during the 90's, it wasn't until the Summer of 2017, when Darby was back on camp for the summer, that they reconnected and there was a real spark between them. Laurie and Darby started dating and eventually Laurie made the move to live in Warrensburg year round. The rest, as they say, is history and they are both grateful that their love of CEL and connection to camp helped them find their love for each other.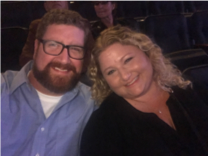 Over 7 summers at Camp Echo Lake, Evan Levine and I, Rachel Rosenberg Levine, developed a lifelong friendship that would lead to something more than either of us could have ever expected.  We did not date at camp but formed an unbreakable bond that would be the foundation of our relationship.  We are so excited for our daughter Lyla to experience the same life altering moments when she comes of age and attends Camp Echo Lake.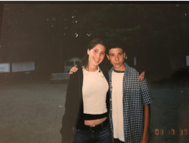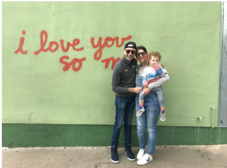 After a sad summer away from camp, Sari Turner Borley's first in 10 years, she decided to come back to camp the following summer (2007). It turned out to be a great decision not only because who doesn't want more time at camp, but also because she met John Borley that summer. Since John was from England (and Sari from New York) the chances of things working out after camp were slim, but after a year a part in different countries, another summer at CEL, and lots of visa research John moved to NYC in the fall of 2008. They got married a few years later in the summer of 2016 and have CEL (and a few special camp friends) to thank for bringing them together!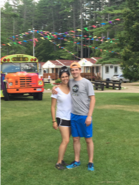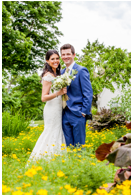 Kelly Godzac and Sam Wilkinson met in Summer 2012 when Sam began working at camp as a Soccer Activity Specialist and Kelly was the Inter Girls Head Counselor.  Kelly and Sam were friends for a number of years, as they both found themselves back at the Lake summer after summer.  Their friendship soon grew into love, and they will be getting married at camp in May 2019 where many Echo Lakers, past and present, will be in attendance.  Kelly is currently the Main Village Director and Sam is the Program Director.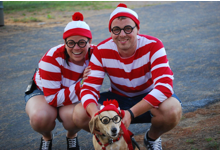 Seth Weinberg and Amy Shugar missed each other at Echo Lake by a year, the discovery of this mutual experience was a nice surprise on their first date! Seth and Amy shared that, "Echo Lake continues to play a role for us as we look forward to another visiting day where we will see not only Matthew and Alex, but old friends as well. Matthew and Alex, both current Echo Lake campers, will be our groomsmen as we get married in April."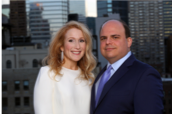 Without my two summers at Camp Echo Lake, I, Nicky Wetzelberger, can't begin to think what my current life would look like! During my two summers at Echo, I not only met some of the best people I have ever had the pleasure of knowing, but ultimately met my husband, Rhys Farrow, on day 1 in summer 2008! It's cheesy, but it's true… we met on the first day, within a couple hours of arriving to camp for staff orientation. We were randomly paired up while playing silly introductions games on the main field in Main Village and were supposed to switch partners to keep meeting other staff, but… we never did, and have pretty much been together ever since. Fast forward ten years, we have lived & backpacked across Asia and South America and welcomed our own future Echo Laker to the world 5 months ago! Echo Lake, is so special to us – there really aren't words to do it justice.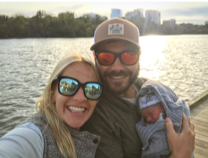 In 1991 when Wendy Becker Feldman asked her college friend, Debbie Bernstein Gertler, to work with her at her sister's sleep-away camp, Camp Echo Lake, she jumped at the opportunity.  It was there that Debbie met Carey Gertler.  Debbie was a counselor for the Lower Inter Girls and Carey was a trip counselor on 4 n' 4.  Although they were both from New City, NY, they did not actually meet until their time at Camp Echo Lake.  They dated for 4 ½ years and then married in June 1996.  They have three kids; Michael, 18, a freshman at University of Michigan and Alex and Jamie, 14.  They live in Livingston, NJ.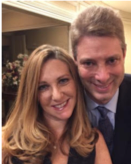 In July of 1985 I, Peter Fishman, met the love of my life, Dara Mochson Fishman in the A&R building at Camp Echo Lake. I love her more now than ever. And we're (myself as a Camp Doctor and Dara as the Fine Arts Head Specialist) still going to camp alongside our two daughters who are current campers! Thanks, CEL.
We, Marissa Cox and Dan Bartoszek, first met at Camp Echo Lake during Group Leader orientation in 2016. We quickly became best friends (or so I thought) and spent all of our free time together. One of us (cough cough, Dan) saw more in our relationship than just friendship and we soon shared out first kiss under the Adirondack night sky. After many long life talks on the deck at the Lake George Beach club we fell in love and the rest is history! We now are more in love than ever and love spending everyday together!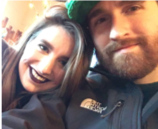 Stacey Becker Wanicur & Jonathan Wanicur originally met in camp the summer of 1990 when he started as a Lower Villager while Stacey was an Upper Inter Girl. They became friends even though Jon was super shy around girls and was only interested in hockey, basketball and the Oreos at Canteen. They later became close friends as group leaders in the senior village the summer of 1997. Staying friends through college and after, they were both in other relationships until the summer of 2007 when Stacey saw Jon on a TV commercial and decided to get back in touch. They started seeing each other more often and it wasn't long before they realized that camp friends are really life long soul mates. Jon and Stacey drove up to camp the summer of 2009 where he surprised her with a marriage proposal on the back porch of the new canteen building overlooking Echo Lake. They were married the following year in 2010 with a camp themed wedding in Puerto Rico (each reception table was named after a different event in camp). They now live in NYC with their almost 5 year old daughter, Ellie.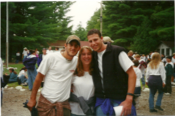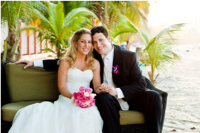 Alen Brandman and I, Jane Siblin Brandman met at CEL in the 80's. We met at the bottom of the flagpole in front of the dining hall. We always remember meeting in that special place and CEL will always give us a Warm Inner Glow for introducing us to each other! It's now almost 22 years of marriage and a few more years of dating!! We are so happy that both of our children love Echo Lake so much too!!!