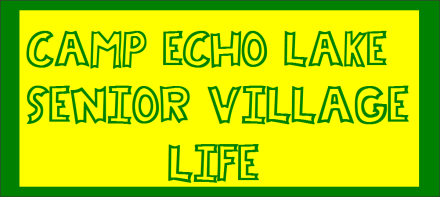 by Casey Linder (SV Girls Head Counselor) and Cal Meyers (SV Boys Head Counselor)
Week 2 in Senior Village 
Week two has proven to be just as exciting and action packed as we had hoped! We've had so many trips from fishing, tubing, and waterskiing, to caving and golf. On top of that, the village just keeps getting smaller! 4n4 Trip 1 departed early Thursday morning and arrived safely in Denver on Thursday evening. 4n4 trip 2 departed early Sunday morning, which has now left just our Lower and Upper Village campers to rule The Village!
The Senior Villagers have gotten to participate in a variety of experiences this week. The Inters put on their show of Little Shop of Horrors, and we've been hosting and attending many inter-camps for basketball and tennis!
Lower Village had the opportunity to have an all Lower Village campfire!  Since they are now older, and are camp fire experts, they were able to take the lead. It was a blast to see our older campers taking charge, picking out their favorite campfire songs, and performing it themselves. They even got to lead their Smorientation! All the while, our Upper Village campers got to spend the evening with Tony Stein doing one of the most beloved evening programs, Flashlight Sing! Our Senior Village campers have continued to be excellent role models for our younger campers by showing their camp spirit.
Trip Day Thursday!
This Thursday our Lower and Upper Village campers got to spend their day playing bowling AND mini-golf! We ended the day with a trip to Martha's Dandee Creamery, where the kids got to cool off with some of the finest soft serve you can find! Our 4n4 campers spent their last trip day going to the Crossgates Mall in Albany, where they got a chance to shop around and see Finding Dory!
To be continued…
As usual, please check back in with us next week for more updates on all of the phenomenal opportunities our Senior Village campers have and the many ways we all get involved on camp!