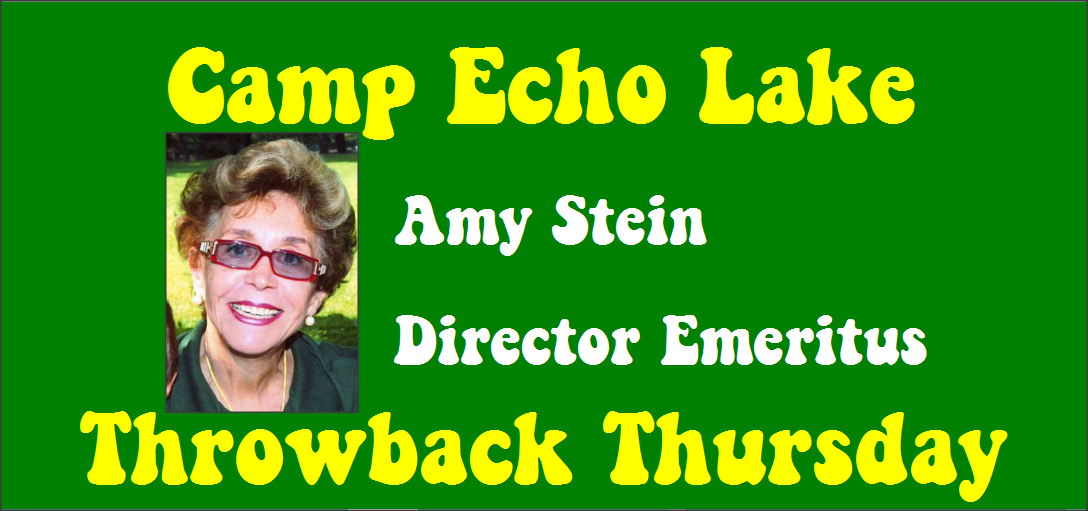 Welcome to the debut of Camp Echo Lake's weekly Throwback Thursday feature. Every Thursday, during the off-season, we will feature stories from Camp Echo Lake alumni from every generation. Amy Stein, Director Emeritus, is the only person who has been a part of the fabric of Camp Echo Lake since its inception in 1946. In this week's Throwback Thursday, Amy takes us on a historical journey from Camp Echo Lake's humble beginnings to today.

This is her story…

I have been in the camp business since I was 8-years old. Camp is a playland, no doubt about it. However, business was very hard work for my parents, so our whole family was involved, and deeply concerned about helping it to be a success. We all did our share. I committed myself to help every camper have a good time in the hopes that they would return.

When I was a little girl, a friend of my parents called and asked how things were going. I answered…"We've lost our baker. Camp is almost ready to start and we don't know if we can get another one. I don't know what we'll do if we can't."

During the winter, my sister and I had playdates with campers who were on the fence about returning. Our job was to tell them about the upcoming summer and urge them to come. We were not too comfortable with this task, but we knew our obligations. We were all pulling together; that's what our family did in order to pay the bills.

I remember auditioning for South Pacific. I knew that I would get the lead, but my parents pulled me aside and told me that it was important for Myra to get the part. She was a new camper and her parents were paying for camp. They hoped that I understood that if our business was to be at all successful, we needed to make sacrifices. I understood this completely.

Mom and Dad had badly wanted to own a children's camp. They were teachers, loved camp, had worked in many and wanted their own. For $5000 you could buy a camp back in 1946. They scraped together the money from relatives and, in the dead of winter, traveled seven hours to Warrensburg, NY. Although blanketed by snow, those 110 acres "sang" to my dad. This was it! This was the one! And just like that, Echo Lake Lodge turned into a small children's camp called Camp Echo Lake. My parents now owned a wonderful camp where kids could play and grow. What excitement!

My parents grew up during The Great Depression. My father carried memories of his father telling him that he was frightened that he couldn't make the payroll. His business couldn't stay open unless he could. This was so scary for a little boy to hear.

In order to assure good sales, our family rarely left our home in Brooklyn. Ten months of the year, we stayed inside waiting for the phone to ring. When it did, always during dinner it seemed, we ate quietly while my dad chatted about camp and made an appointment to visit the family at their home.

My parents had to battle the distance factor while selling. Echo Lake was in the Adirondacks, a seven-hour drive from Brooklyn. The Catskills, the Poconos and the Berkshires were all much closer. This was a real issue for people parting with their beloved children. My parents were educators, very loving, and gifted in helping children adjust to camp, while at the same time, satisfying their anxious parents. The camp fee in those days was $385………..unbelievable!

Summers were not easy. Mom and Dad felt that, to ensure their success, they had to be all things to all people – clients, staff and campers. They also felt hamstrung, having partners who had their own ideas about how Echo Lake should be run, and how the money should be spent.

I can still hear my dad, who had been a professional musician, sit down and play the piano in the dining room each night as 110 campers sang camp songs at the top of their lungs. My mother planted lovely flowers and spoon-fed homesick campers who cried on her shoulder. She did everything that she could to pump them up and get them through the summer feeling good about themselves.

Camp was very different in those times. Our clients came mainly from Brooklyn; the move to the suburbs of Long Island and Westchester came years later. Camp was very affordable, and seemingly all children went for eight weeks. The goal of parents for their children was that they should eat well, sleep well, be kept clean and healthy and learn how to swim.

There was a time when there wasn't just a mid-summer Parents Day from 9am-3pm. There were two Parents Weekends during the summer. Parents would arrive Friday night for services and a talent show. On Saturday, they would visit with their children all day, follow the activity program, check to make sure that every nook and cranny of the cabins was spanking clean, eat lunch in camp and come back for the Big Show Saturday night. On Sunday, they repeated much of what they did on Saturday until about 5:00 pm when it was time to leave.

The campers' parents would grill my parents extensively about their children's progress, or lack thereof. They would criticize everything that was a concern, real or imagined, and seek out activity specialists requesting private coaching in this or that sport. Imagine the work it took for the staff to bring campers back into the fold when their parents left them on Saturday night and then again after their big goodbyes on Sunday at 5:00 pm. At this point their children had been cosseted for nearly 48 hours. Many had lost their newly acquired sense of independence and were reduced to near infant-like dependence. My parents were totally wrung out. Imagine gearing up for an additional similar weekend three weeks hence.

Counselors were basically babysitters and the second Sunday was "Palm Sunday" when they received tips by parents for their work. As a staff person I recall feeling so embarrassed. How times have changed in the world of private camping nowadays.

In 1964, when Morry and I bought Echo Lake, my dad was thrilled. We had no partners. He was sure that young owners like us (I was 26, Morry was 28) had the zeal and talent to take a small camp with undeveloped, spacious property and, with a little bit of luck, grow it into something very successful. My parents, very generously, refused to allow us to pay them for their ownership share.

"We'll let you know if we need it," they said. "You will be pouring every bit of the money you earn back into this place. You will need to build fields and refurbish cabins because you are going to go out and enroll lots of campers!" And that is exactly what we did!

While raising three young boys, we were out selling six nights a week in the winter. In the summer, we developed exciting programs and utilized the outdoors in a way that had not been done in an eight-week camp before. We hired great staff too. No expense was spared to get the best people to work alongside us. We worked so hard, loved every minute of it (almost) and were very highly motivated.

Quite soon, and most fortunately, we developed a foothold in Montreal. Our reputation and professionalism preceded us after just two years of Echo Lake ownership. Montreal is a close-knit and geographically dense community. One Sunday, we visited 10 families and enrolled 19 children. Morry and I were so excited that we didn't know where to put ourselves!

Montreal spawned Mexico City, and we soon became the first camp to have Mexican boys and girls spending the entire summer in an American camp. We had close relationships with our foreign families, all of whom were thrilled to see us at area reunions. It was so much fun and so rewarding in a myriad of ways. We loved people and we loved talking about camp. What could be bad?

Needless to say, the metropolitan New York area was where we drew the bulk of our camp families. Brothers and sisters told cousins and friends about Echo Lake. Campers starting coming from: Philadelphia, Washington D.C., Florida, California and Italy, further diversifying our population. Clients loved our geographic range and the fact that we were always careful not to saturate our camp with too many from one area. Maybe more than anything else, they also knew that we ran a very tight ship. Along with the fun, skills and games, we were a community rich in discipline, clear boundaries and values.

My parents were incredibly proud of our work when they visited every summer. My dad, in particular, felt that he had spawned something really mighty. He was right! He watched our site expand and develop to meet our rapid growth, which quadrupled over the next thirty years.

I was keenly aware of the importance of my work at Echo Lake. Morry and I had extraordinary responsibilities, along with the privilege of molding and impacting young peoples' lives. It was so heady, and yet humbling, to be profoundly influential as only quasi-parents could be in a residential community. During the course of the summer, the wins, the losses, the laughter and the bumps in the road were coupled with something very special. It was the strength and confidence that accrued in kids who were influenced by the dedicated staff that we had assembled.

There were also many moments for us where we had to stand our ground, expelling even good people from the community because the rules that we held dear had been broken. In the midst of the fun, spirit and laughter, there were times that Morry and I were severely tested. We forced ourselves to meet those tests even though our hearts felt heavy. We felt that, above all else, the standards at Echo Lake had to be upheld in order for the community to be respected, and for everyone to be properly protected.

I learned something surprising as we grew and expanded. We could actually grow without losing our intimacy, and at the same time, offer even more breadth of programs. We always adhered to the 3 to 1 camper/staff ratio that we maintain to this day, and we still bring the very best, young men and women in to learn, live and love the Echo Lake experience.

We knew every single camper back then, just as we do now. We work, as always, to celebrate and recognize the best in every child that grows with us. It's no wonder that our campers leave at the end of the summer feeling ten feet tall. They have been loved and respected, and their days and nights are filled with the best of learning and confidence-building.

This fabulous community shares, shapes and enhances everyone.

Take a Friday nights for example, when we gather together as an entire camp. Every camper in a given group speaks on a theme, espousing a tenet of our philosophy – perhaps their best learning experience here. They talk about special friendships that they have made, or the virtues of supporting and being supported by a great friend. We've shared these special Friday evenings forever. Everyone pays rapt attention as we single out campers for making fine contributions to their group throughout the week.

Is the Echo Lake of 2014 different than the Echo Lake of 1946? You betcha! The campus is sensational and maintained beautifully. Programs have been highly developed to meet the needs of today's youth. No computers for our kids, nosiree. Is the Echo Lake of 2014 the same as the Echo Lake of 1946? In its heart, soul and values…it is! Absolutely!

I have the same pride and total confidence in my son Tony's work that my parents had in me. We stand on the shoulders of three generations of supreme dedication to the best and brightest kids in the whole wide world. They come from terrific families who know that we are doing something very right and very special. Do we work very hard? I can't lie to you…we do! I've been working at Echo Lake for nearly my entire life, and I can honestly say that I've got the best job in the world!

This is why I LOVE meeting prospective camp families who visit every summer. I love infusing them with my enthusiasm and joy. They see the very same enthusiasm and joy radiate from all of the campers and staff that they encounter during their visit. This is the Echo Lake stamp, its signature, its philosophy. It permeates the fabric of our entire campus and totally defines us.

As far as i am concerned, it just doesn't get any better than this!

Written by Amy Stein.