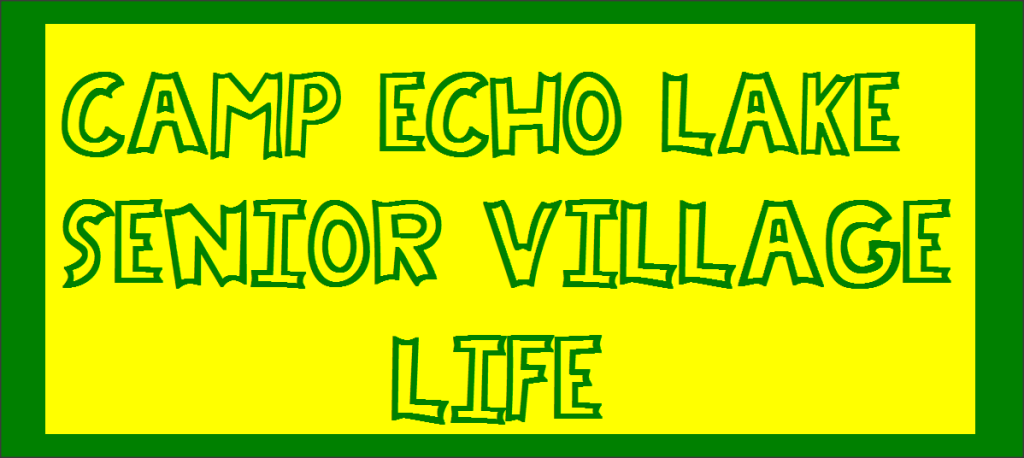 Senior Village Boys Head Counselor – Jon "JOB" O'Brien
Senior Village Girls Head Counselor – Kersti Haskell
WEEK 1 – "Back to the Village"
What a first week it's been back in the Echo Lake Senior Village!  While the rain put a little damper on our first few days, it's been a fun-filled, action-packed week.  Trip day, Sign Out at the movies, Special day and Tribal, what more could the Senior Village ask for?
LOWER VILLAGE TRANSITION
Our Lower Villagers have transitioned well into the Senior Village life. "With great power comes great responsibility," and our Lower Villagers have hit the ground running, taking full advantage of our all-elective based schedule, co-ed activities and trip days.  We've also witnessed some incredible spirit and enthusiasm from all of our Lower Villagers, and we can't wait to see what the rest of the summer will bring.
TRIP DAY
Every Thursday in the Senior Village, we head off camp for trip day.  This summer we'll head to beaches, Skateland, Lake George Village, Saratoga and The Great Escape twice! (That really is too much awesome!)  This week, the Boys and Girls headed out to two separate beach locations to soak up the long overdue sunshine.
BOYS – VETERAN'S BEACH
This trip is always a big favorite with our Senior Village Boys.  With a beautiful view of Lake George, sand volleyball, football, soccer, basketball, guitar/ukulele singalongs and Stewart's Ice Cream, it's safe to say that the boys had an awesome day!
GIRLS – MILLION DOLLAR BEACH
The ladies of the Senior VIllage enjoyed a relaxing day of sunshine and swimming on Lake George's beautiful Million Dollar Beach.  Campers were able to play games in the sun, get ice cream and snacks from the beach concession stand, and splash around in the water.  The weather turned out to be perfect and everyone had a great day!
UPPER VILLAGE "SIGN OUT"
Our Upper Villagers headed out to the Movies this week for their first of two sign outs for the summer.  The campers had the option to see Jurassic World or Inside Out.
INTER-CAMP
Boys
This week, we kicked off our Senior Village inter-camps for the summer with a 9U Basketball game against Baco, and an 8 & 9U Soccer game against Walden.  While our basketball team battled hard, they lost to Baco.  On the bright side, our Soccer players came out 4-1 winners over Walden.
Girls
The Senior Village Girls had a soccer inter-camp against Walden this week, and had a great time working together as a team.  Although they didn't win the game, they all left with smiles on their faces after enjoying the morning playing together.
SPECIAL DAY – BACK TO THE FUTURE
Last year we added another Senior Village Special Day during the first week of camp.  The idea behind this was to give our 4n4 campers the opportunity to be a part of one Special Day, and also to welcome our Lower Villagers with a bang.  We have some truly amazing Special days planned for this summer.
Our first Special Day had a Back to the Future theme…
Let me set the scene:  With Tony Stein getting addicted to Pac Man back in the 80s, his quest to beat Glenn Begly's high score took over his entire life…dropping out of college and ultimately never becoming the owner and director of Camp Echo Lake.  Doc and Marty (with the help of our Senior Village campers) had to gather enough Fuzzies to power the "Fuzz-Capacitor."  Cue 80s "Power of Love" montage…life size Pac-Man, Space Hopper Relay, Giant Twister and life size Hungry Hungry Hippos. We ended the day watching Back to the Future and eating Chipwiches and freshly-made Popcorn.
LINEUP- JIMMY FALLON STYLE
This year's Senior Village Line up theme is the one-and-only…Jimmy Fallon.  Some of Jimmy's classic games – Egg Russian Roulette, Box Of Lies, Water Wars, Rougette and Lip Sync Battle – have made their way to the Senior Village.  Now that all our games have been introduced, this coming week, groups will be able to bet their hard earned "Village Dollars" on the outcomes of these challenges.
TRIBAL
"1,2.3,4……WE WANT TRIBAL WAR!!"  What a game, and what a win for team USA!!  After an evening spent at Hoe-down, the entire camp made their way down to the lower baseball field to watch the Women's World Cup Final (or so they thought!).  The moment that every camper had been waiting for – Tribal break – had finally arrived!
THE WEEK AHEAD
As usual, we have an action-packed week ahead in the Senior Village!  We start with our first Ice Hockey sessions of the summer, Girls Tennis Tournament at Pointer Pines, Boys Basketball against Forest Lake, Group Sing, Fireworks, Girls Soccer against Walden, Beach, Trip Day, Boys Soccer at Baco, Boys Basketball against Walden, Boys Lax game in Glens Falls, Bird Songs, 4n4 trips depart and a Boys Tennis Tournament…all on top of the general awesomeness that is Senior Village daily life!