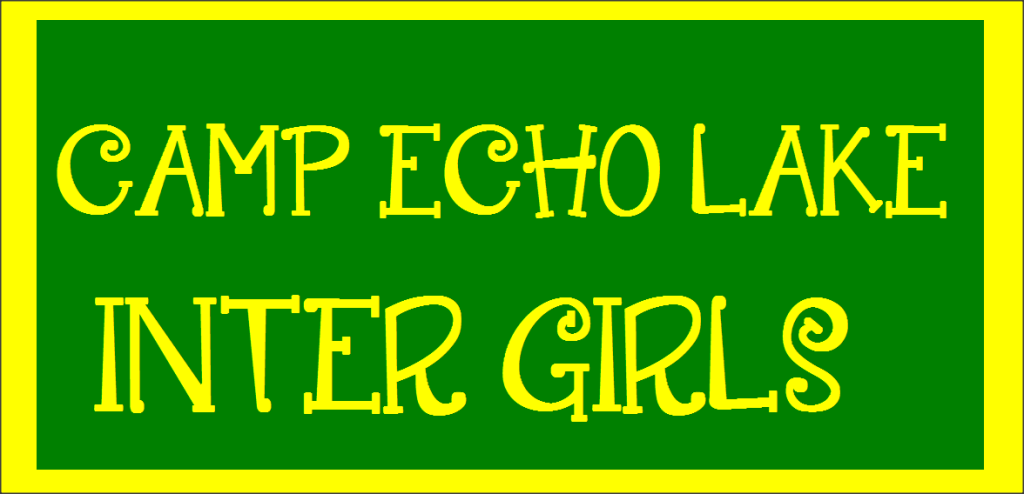 Inter Girls Head Counselor – Ally Begly
INTER GIRLS ACTIVITIES
This week, the Inter Girls enjoyed a variety of special events and activities.
The Upper Inters kicked off the first campfire of the summer, and the Lower Inters were lucky enough to experience Harrison's special Fantasy Auction.
Sometimes, even the dreariest nights can turn out to be tons of fun.  Girls' Camp Trivia Night was a random idea that popped up as Kelly Godzac (Junior Girls Head Counselor) and I were brainstorming.  The girls brought their usual energy and enthusiasm to the event.  We covered Disney characters, camp "contraband," and, of course, Camp Echo Lake facts.  It was a great evening spent in the company of awesome campers and counselors.
Dutch soccer has been a big favorite.  Both the Upper Inters and the Lower Inters played in the rain the first few days of camp and had a blast.
FRIDAY NIGHT SERVICES
The first services of the summer are always really special. The LITs spoke to the entire camp about taking full advantage of all opportunities here at Echo Lake.  It was a great reminder that each day at camp holds a special opportunity to make the most of activities, friendships, and experiences. Friday Night Services were followed by Inter Arts, which gave the entire camp a preview of the summer's upcoming theater events.
INTER-CAMP
The Lower Inters faced off against Southwoods in the first inter-camp of the summer.  The girls really enjoyed seeing another camp, and had excellent competitions in soccer and softball.
EMBRACING THE MAIN CAMP EXPERIENCE
Aside from the LITs, the Inters are the oldest campers in Main Camp.  For the Upper Inters, participating in "old classics" like Flashlight Sing and campfires provides opportunities to really make the most of Main Camp before crossing the road to Senior Village.
RESPECT FOR OTHERS
We've practiced open communication across the board, which helps to build and develop respect, while allowing groups to grow closer and friendships to strengthen.  I think that campers and counselors alike have all learned the importance of practicing respectful attitudes toward one another.  This helps groups to work together cohesively as the summer progresses.
GOALS
In the spirit of the message that the LITs delivered at Friday Night Service, I want to make sure that the Inter Girls take full advantage of every opportunity at camp. Time goes by fast here, so it's important to treasure even the little moments, like hanging out with your friends on the porch.
COMING UP
The entire camp will be treated to beatboxing bird songs on Thursday, and the old favorite OTB on Wednesday. Can't wait!