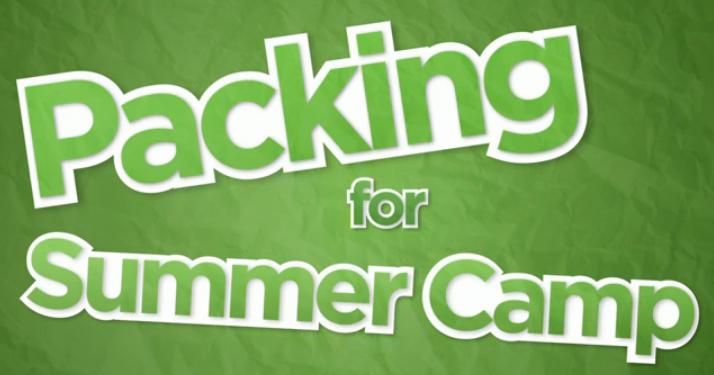 "Parent Questions: How Does That Work at Camp Echo Lake?" is a new monthly feature that you will find in The Camp Echo Lake Trail.  In this article, we answer important questions for parents as we get closer to the summer.  Our hope is to not only share information with our parents and camp families, but also to help you feel comfortable and excited about what to expect when your child or children are away at camp.
If you have a question that you would like to see answered in this monthly feature, please email it to Laurie@campecholake.com.
PARENT QUESTION:  I've looked over the packing list, but I'm still a little unsure about how to approach the packing process for my child.  How closely should I follow the list?  How much room will my child have for storage?
One of the most important things to remember, when determining what you need to pack for your child, is to include them in the process.  They should help with the shopping, gathering and packing so that they know what is coming in their duffle bag, and what they will have to use once they get to camp.  Keep in mind, when it comes to packing, less is more!
STORAGE PROVIDED
Each camper is provided with 5-6 cubbies (12" x 12" each) to be used for their clothes and linens.
Campers in our Main Village (going into 7th grade and younger, and LITs going into 11th grade) will have two cubbies (12" x 12" each) next to their bed to store books, stationery, flashlights, toiletries, etc.  Please note that Main Village campers cannot bring any additional storage boxes to be used under their bed.
Our Senior Village campers (going into grades 8-10) can bring one under-the-bed storage box to be used for the same purpose as the bedside cubbies in Main Village.  Please note that the box should measure 32" long x 32" wide x 9" high.
WHAT TO PACK
Our packing list really does provide a good guideline as to the number of items that your camper will need, and can fit into the storage provided.
REQUIRED
While there are very few required items that must be brought to camp, each camper must have six Echo Lake logoed t-shirts (2 yellow, 2 green, 2 grey).
RECOMMENDED
We recommend that each camper brings the following to be used at activities:
Tennis racquet
Baseball or softball mitt
Pair of shin guards
Other than these items, parents really have the ability to customize what a camper brings to camp (as long as you remain within the overall suggested numbers).
WHAT TO LEAVE HOME
Please DO NOT bring anything to camp that is so special or important, that if it was lost or damaged, would be extremely upsetting to you or your child.
COMFORT MATTERS MOST
Campers should pack and wear what they feel most comfortable in, without any concern for bringing the "right" clothes that "everyone wears."
For example, we recommend that campers bring "[4] long pants," which includes:
Jeans
Sweat pants
Leggings
Athletic pants
Cargo pants
Any combination of the above is fine.  The most important determining factor is your child's comfort.
PRACTICE BEFORE PACKING
Our staff works with campers to help them unpack and organize their items, but practicing things like folding clothes, making beds and organizing toiletries is something that should be practiced before the summer.  This way, your child will come to camp with confidence that they will be able to do these tasks when you are not there to help them.
THE IMPORTANCE OF LABELING
Keep in mind that EVERYTHING you pack and bring to camp should be labeled with your child's name. From clothes to bedding to equipment to toiletries, everything should have your child's first and last name on it.
CAMP ECHO LAKE LAUNDRY
All camper and staff laundry (clothes, linens, towels) is done weekly (as are sheet changes).  Our staff helps with bed-making and sorting laundry, but it is a good idea for campers to practice this at home so that they know what to expect.
SHOULD I PACK STUFFED ANIMALS / COMFORT ITEMS?
At Echo Lake, many of our campers sleep with stuffed animals or comfort items.  No one will ever make fun of anyone for doing this.  If your child feels self conscious, they may want to keep the item in their pillow case during the day.  Try to reassure them that there is nothing wrong with sleeping with a stuffed animal or blanket at Echo Lake.
A COZY SUMMER HOME
Campers should look at their bed and bunk as their summer home.  In order to help campers feel comfortable and "at home" talk to them about what sheets, blankets or pillows they want to bring to make their bed feel cozy.
PERSONALIZING THEIR SPACE
Campers can bring a small photo album or pictures of family and friends to hang near their bed with masking tape or thumb tacks.  Many campers also like to bring posters to decorate their bed area in a fun and personalized way.
TOILETRIES AND OTHER ITEMS
With things like toiletries, books, or other items that campers may "use up," we suggest sending your child with only enough to get them through the first three weeks of camp, since you will be visiting your child at that point.  You can bring additional items for the last four week of the summer on Visiting Day.  We do have a small supply of essential toiletries like suntan lotion, shampoo, soap, tooth paste, etc. in case a camper needs something immediately.
Keep in mind that, when it comes to books, campers often share with other campers in their group to give them a bigger reading selection.  We also have a camp library if campers are looking for new books to read.
FIRST-TIME CAMP PARENTS
If you are a first-time camp parent, and have questions about specific items on the list, please call us in the office.  We are happy to walk you through the entire list, and answer any questions that you may have.   We are here to help you and your child every step of the way.
CONCLUSION
Packing for camp can bring up many emotions, but the process is made much easier when you work together with your child.  When he or she finally arrives and gets settled in, they will enjoy a summer filled with fun, new experiences, support from our staff and their peers and lots of love.  We can't wait for the summer!