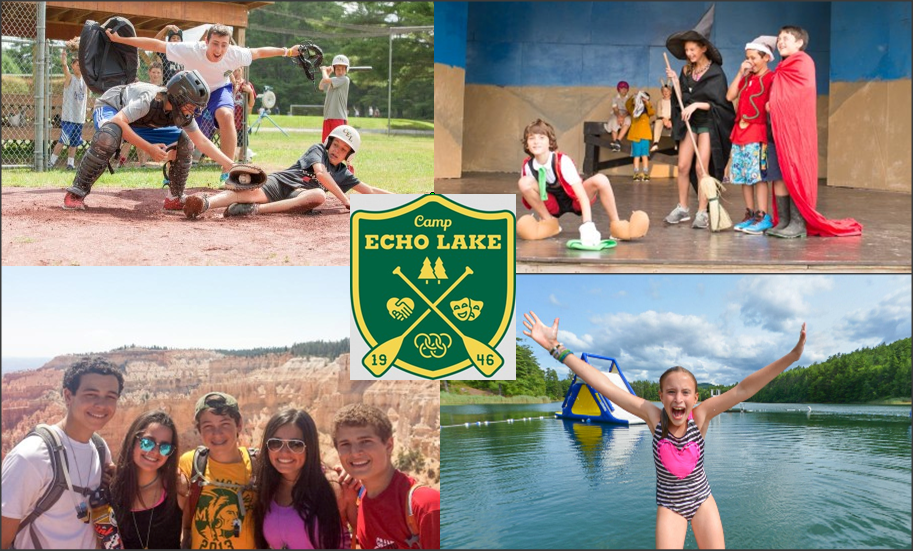 Whether you are considering Camp Echo Lake for your future camper, or you are interested in learning more details about the developmentally progressive program that your current camper is experiencing, you will find valuable information about our programming in this series of articles.
At Camp Echo Lake, our diverse and exciting program offers something for every camper in our four core activity areas: Athletics, Creative and Performing Arts, Aquatics and Outdoor Adventure Activities.  From now until the start of camp, we will be featuring a more in-depth look of each area separately.  These articles will be published on The Trail on a monthly basis.
A PROGRESSIVE JOURNEY
Intentional programming is a big part of our focus on human development, and we begin with the end in mind. Activity instruction is always designed to be hands-on, age/skill level appropriate and developmentally progressive.
In order to meet the needs of each camper, and keep their excitement level peaked, the program for each age group is unique. Since no two summers are the same for our campers, there is always something for them to look forward to as they grow up at Echo Lake.
The following is an overview of the progressive programming that is the Echo Lake journey…
JUNIOR CAMP – (Entering 2nd, 3rd, 4th and 5th Grade)
Primarily group programming to promote positive group dynamics and a sense of community
Campers are exposed to all areas of camp to help foster new interests
Attention to basic and higher-level skill building
Nurturing staff members help campers build self-confidence, act as respectful community members and establish foundations for lifelong friendships
Campers begin to develop a sense of personal independence and resilience
INTER CAMP – (Entering 6th and 7th Grade)
More elective programming allows campers to pursue interests on a deeper level
Increased number of inter-camp games and tournaments for all skill levels
As the oldest campers on main camp, Inters take on leadership roles in their community
Staff members are attentive to changing social dynamics of pre-teen
SENIOR CAMP – (Entering 8th and 9th Grades)
Elective-based program allows campers to enhance skills in areas of passion and also explore new activities
Community-based environment promotes a low-pressure, healthy, co-ed experience
More advanced travel and outdoor adventure experiences
A summer experience that helps campers bridge the gap from childhood to adolescence
Leadership opportunities including fundraising for Project Morry and leading Friday Night Services
4N4 – (Entering 10th Grade)
A program that promotes self-exploration and group bonding out west
Stops include Grand Canyon, Lake Powell, Zion National Park, Las Vegas, Aspen, San Francisco, Yosemite National Park, Bryce Canyon
Opportunity for campers to get to know and challenge themselves and their peers (mentally, physically and emotionally)
The best of both worlds! Four weeks traveling as a group out west, bookended by being at Echo Lake as a camper.
LEADERS IN TRAINING – (Entering 11th Grade)
The capstone experience of the Echo Lake journey
A close-knit and supportive group of lifelong friends
The ultimate leadership experience: Learning to lead in a safe environment without fear of failure, and serving as role models to younger campers
Community service opportunities that complement the camper experience
By providing high-level instruction in an encouraging, supportive environment, campers are afforded the opportunity to develop their skills in areas of passion. Additionally, our caring staff is dedicated to helping campers step outside of their respective comfort zones to try a variety of activities.
Through a mixture of scheduled group activities, electives, clinics, inter-camp games and tournaments, there are a variety of ways for campers to enjoy and challenge themselves in both non-competitive and highly competitive ways.