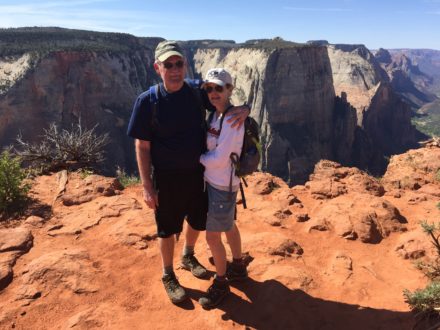 Usually, we tell you what we've been up to around camp or out and about in the Adirondacks.  But in this installment of YBB, we want to tell you about a trip that we took that visited places Echo Lake goes, albeit 3,000 miles from our little corner of the North Country.  Despite the fact that we have been at camp for many years, in fact decades, neither of us had the chance to be a 4n4 counselor.  There are about a million good reasons to be a camper for as long as you can, but the 4n4 trip out West with your best friends has to be right at the top of the list!  You'll get to spend a month experiencing natural wonders and making a lifetime of memories!
We didn't have the time to go to all of the amazing places the 4n4 trips visit, but for eight days in April we managed to squeeze in a few!  We hopped on a plane from Albany, got off in Las Vegas, and in a matter of a few hours were driving our car into Zion National Park.
What an indescribably beautiful place!!!!  Towering canyon walls thousands of feet high, multicolored bands of rock, a pristine river—there's no place like it!  Although the river was running too high from snowmelt to go into the Narrows the 4n4 hike each summer, or on the famous Subway hike, there was so much to see and do!  Since we couldn't explore exactly where 4n4 go, we picked a couple less traveled routes.  We went on a nine-mile hike to Observation Point, which looks hundreds of feet down on Angel's Landing, and is a couple thousand feet above the canyon floor.  On another day, we inched along the side of Hidden Canyon, holding onto chains, on a narrow trail 1500 feet above the river – what a view!
In between, we hiked and hiked and hiked—usually seven or eight hours a day.  All too soon it was time to drive a few hours to Bryce Canyon City (smaller than Warrensburg!) just down the road from Bryce Canyon National Park and do the famous Fairyland and Peek-a-Boo Loop Trails among the "forest" of massive sandstone hoodoos that line the bottom of the canyon and rise upward hundreds of feet.  Its higher there than in Zion and we saw snowbanks tucked into the shady spots.  It's so incredible our necks hurt from constantly looking up at the astonishing and other-worldly landscape!
Our final stop was Moab, home of Arches National Park, and a short hop from Canyonlands National Park.  We saw the incredible Delicate Arch and hiked miles away from the crowds to see some more remote but equally amazing arches.  It's hard to imagine the natural processes that sculpted these magnificent wonders – -it was truly awe-inspiring!  Before the eight days were up, we also spent a day in Canyonlands and completed the (as we learned later, infamous) Syncline Loop.  It's a narrow, rocky and extremely rugged nine-mile trail that makes a loop around a mysterious crater in a remote area, going down over a thousand feet at the onset and then back up across a boulder field and forty percent incline of ledges near the end on the way out.   We are very experienced hikers but it was by far the most challenging hike we have ever been on.  No, it's not one the 4n4 do – -but it's a great story, one you might not believe!  Want the details?  You'll have to wait until you see us next month!  The grass is getting greener, the leaves and flowers are popping out —we can't wait to see you!
Terry & Glenn