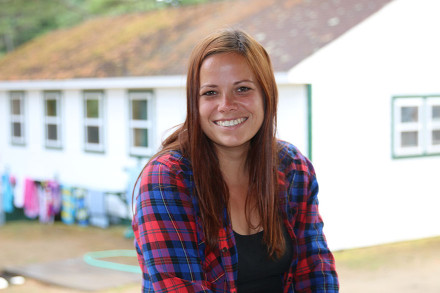 Dear New Campers,
It is hard to believe that in about a month staff members will begin showing up to Camp for our 71st summer, and within a few weeks campers will follow suit!  With all the anticipation and excitement of what is to come I am reminded of all the different thoughts and emotions that ran through my mind prior to arriving at Camp for the first time. Will I make friends?  How am I going to survive 2 months without my technology?  What do I do when I finally arrive? What will it be like falling asleep in a new place? Some of you may be having similar thoughts and that is okay.  It is a very brave thing to do; coming to a new place and spending 2 months away from your family and friends at home.  What you will soon find out, as I did, is that you are about to become a part of a community that will be your new summer home.  It is my hope to help you get a picture of how this will happen by answering some of these questions.
Will I make friends?
 The short answer is, yes!  You will make friends.  Lots of friends!  Camp is filled with people who are all there to have a great summer and make friends as well!  If you participate in activities, talk to new people, and be yourself you are guaranteed to leave camp with a ton of new friends!
How do I get used to not having my lap top, iPad, or cell phone?
With so much to do at camp it is easy to forget about the technology you use everyday at home.  Your day will be jam packed with activities from morning to night.  During your free time you will often find yourself occupied playing games, talking to your friends, or writing letters to people back home. It becomes normal not to use technology and it feels great spending that time interacting and learning about others!
What will it be like when I first arrive at camp?
 If you are coming up on the bus, you will have counselors at the departure point helping you load your bags under the bus. You do not have to worry about finding a person to sit with as a counselor will help you! When you arrive to Camp, you will be greeted by hundreds of excited counselors who have been waiting for a long time for your arrival! Your group counselors will help you get your bags that may be under the bus and will take you to your cabin.  Upon arrival in your cabin, you will see that all of your clothes and other items you packed with mom and/or dad will be on your bed waiting for you.  You do not need to worry about choosing your own bed, as we will already have it picked out for you and labeled with your name. You may also find that your counselors have decorated the bunk for your arrival!  Your counselors will help you put your clothes away and organize the rest of your belongings.  You may then decide to decorate around your bed with pictures and posters or maybe play a game with your new friends while you wait for the rest of your group to arrive.  Once all of the campers in your group unpack, you will have your first group meeting so everyone can learn each others' names and start all of the fun!
What is bedtime like at camp?
Every evening you will participate in some type of evening program followed by canteen (where you get a yummy bedtime snack.)  After that your counselors will take you back to your bunk and help you get ready for bed.  Just like I'm sure you do at home, you will change into your pajamas and brush your teeth. The counselors will come chat with you a little before bedtime and ask about your day.  If you have trouble falling asleep your first couple of nights, that is completely normal.  There will always be a counselor in the bunk or sitting out on the porch that can help you.  You will be able to have flashlight time until you fall asleep, so you can read a book, draw, write in your journal about your day, or listen to music.  You will find what helps you fall asleep the best and that will be your new camp bedtime routine!  As the summer goes on falling asleep will be very easy, since you will be tired from the long exciting days!
 What will happen if I ever have a problem or get upset?
Just like at home or at school, you can sometimes have moments at camp where you feel upset.  The most important thing to remember is that if at any time you have a problem, miss home, or just need to talk, you are surrounded by people who want to support you!  If you ever do feel this way, it usually only lasts for a moment, which a counselor, or head staff member will help you get through.  These moments will not overshadow all of the great moments you will have at camp!  It is important to make sure you ask for help when you are starting to feel this way.
You will find that at Camp Echo Lake everybody makes friends, gets used to a new bedtime routine, and can even survive 2 months without technology!  The truth is, once you are there and establish your new routine, all of these things happen naturally.  Before you know it you will be carried away by the love of your new summer home!
I am looking forward to meeting you all soon!
Kelly