For us, summer never really ends, since we get to live right at camp year round.  But this Fall, we saved a little bit of summer for an invasion of alums at the 70th anniversary.  Former Echo Lakers came from far and wide – some from thousands of miles away – to laugh, play, reconnect, and reminisce, on a beautiful, warm early fall weekend. Smiles were in abundance from the first second to the last!  It won't surprise you to know that many in attendance (some even older than us!) said that when they drove through the front gate, they immediately felt the same wonderful happy feelings you feel when your bus rolls into camp in June!  Truly, for those of us lucky enough to be a part of the Echo Lake family, summer never ends!
Ok, so on to places to go and things to do.  The leaves are changing and we have been out and about. We walked in to Santanoni – a favorite destination of many TREK trips – and marveled at the beautiful restoration of the Great Camp on Lake Newcomb.  If you didn't make it there this past summer make sure you go on one of the bike trips or hikes there next year, as it is an unforgettable place!  One thing we've added to our outdoor experience this year is exploring the Adirondacks by boat.  We do it in a guide boat, which is a rowing boat (but definitely not a clunky rowboat!) unique to the Adirondacks, but a canoe or kayak would do just as well.  We've been out on Lake George, Brant Lake, Schroon Lake, 13th Lake, Mirror Lake, Paradox Lake, Long Lake, Lake Placid, and Trout Lake, to name a few.   Each of these is incomparable and the perspective you get gliding silently along a forested shoreline, plus the amazing views of the mountains make for an incredible experience.  Just like hiking, there are a variety of trips, from novice to pretty challenging; if this is something you haven't done at camp, you just have to give it a try.
Every year Darren and the amazing m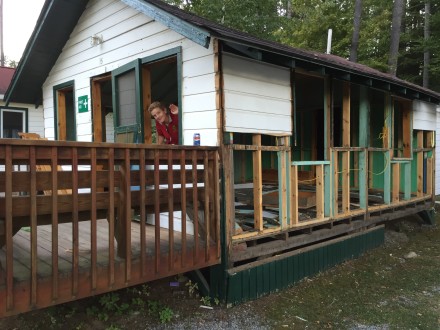 aintenance guys are hard at work building something new.  We don't want to spoil all the surprises but we thought we'd include this picture of Terry inside the Main Village Boys HQ.  Did you know the MVBHQ is one of the oldest buildings on camp, going back to the 1940s?! It looks like something is up there, doesn't it?  Let's just say the old MVBHQ is about to be "retired" in favor of a much more modern version.  Of course this isn't the only thing changing, but you'll just have to wait and see!
We hope you are all happy, healthy, and counting the days until summer 2016, just like us!  We'll have more from the Big Back Yard next time!
Terry & Glenn