Read all the articles from this issue.
Dear Campers,
Would you believe me if I told you I was excited out of my mind about our 70th summer????  If you know me at all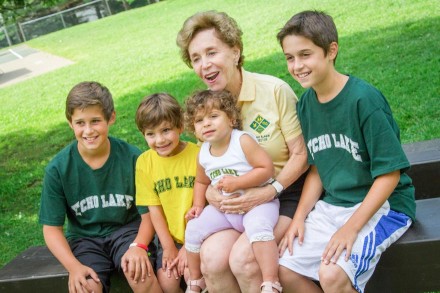 you'd say "that sounds like Amy.  She LOVES camp."  Yup, the summers never grow old in terms of my unbridled enthusiasm.  I just can't wait to see you all and I have absolutely no doubt that this summer will be beyond spectacular.  It always is!
Needless to say, there aren't a lot of places, camps or other institutions, which celebrate 70 years under the helm of the same family.  I refer to the Medine Stein lineage  — that's us.  And as you can imagine we will celebrate our 70th in some slam bang way this summer.  And after that during the weekend of September 18 – 20 alums from far and near will be arriving at camp to celebrate our 70th in their own way.  Party on, I say!  And I bet no one I know would say anything other than Yes, Yes, Yes!  We've got 70 great reasons to celebrate!
Much love,
Amy