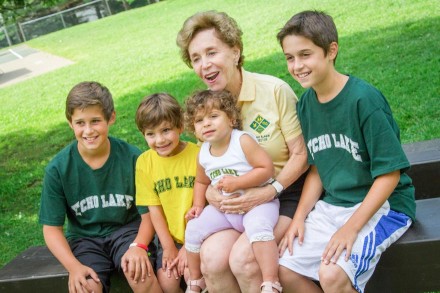 Hi there Echo Lake family,
We are coming off two very spectacular camp-related events one being our 70th camp summer, wow! The second was a 70th camp alumni reunion during spectacular weather – a love fest with alums who go back as far as the summer of 1946, would you believe.  We broke Tribal, had a tug o war, played ball, reminisced and had a terrific talent show, too.  It was simply very, very special and oh, so gratifying.  Folks came from California, Minneapolis, Montreal and in many cases bearing little people who will doubtless swell our alumni camper ranks in the very near future.  There was laughter, love, celebration and a gathering of the alumni clan.  The only way it can get any better is our 75th 5 years hence.  We look forward to it.
And in my little corner of the world I can't stop ruminating about you all.  I have such fun watching you all "do your stuff" all summer long.  Hey, moms and dads, please take excellent care of our wonderful boys and girls. So far as I am concerned they are all on loan to you until next summer.  WE WANT THEM BACK!
Much love,
Amy