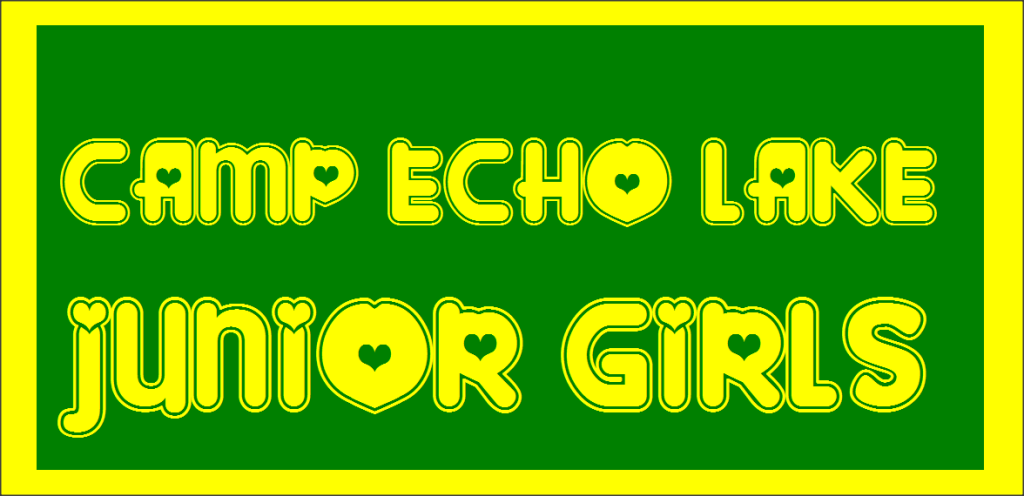 JUNIOR GIRLS HEAD COUNSELOR – Kelly Godzac
CAMPFIRE / "SHMORIENTATON"
All of the Junior campers had their final campfire of the summer.  This campfire is similar to the one that the girls enjoyed earlier in the summer.  Like all Echo Lake campfires, there is a beginning, middle, and end, each with their own significance.  In the beginning, we sing songs; in the middle, we make s'mores, and at the end, Laurie reads to the campers.  The story for this campfire was The Giving Tree.
One thing that I noticed about this campfire is how acclimated everyone was to camp.  The girls all knew every single campfire song and their Echo Lake trivia.  They passed "shmorientation" (training on how to make a proper s'more) with flying colors.  It was evident to me that there are no "new" campers anymore, as everyone is an Echo Lake expert.
LIT-HOSTED SCAVENGER HUNT
This past week, the entire Main Camp participated in a huge scavenger hunt put together by the LITs. The groups navigated their way around camp looking for clues in order to reach the end of the hunt, which led them to canteen in The Lodge (a perk usually reserved for Senior Villagers).  They loved being able to do something new, and also to get a taste of what life is like in Senior Village.  It was very exciting for everybody.
TRIBAL TRACK
This past week, the entire camp participated in Tribal Track, which consists of many running events, as well as some field events including:  long jump, base running and Frisbee toss.  The girls did a wonderful job competing for their teams, and each gave it their all.  There was a lot of support and camaraderie amongst the Junior Girls during this event.
SEIZING THE DAY…THE ECHO LAKE WAY
I saw a lot of Junior Girls trying new things this past week, from performing in front of the entire camp, to achieving meaningful goals.
Some girls got on stage during Friday Night Live for the very first time, performing in dances and other musical acts.  Others continued the progress that they have been making over the course of the summer, most notably, climbing to the top of the rock wall and passing their deep water test for the first time!
It's wonderful to see so many girls pushing themselves beyond their comfort zones to achieve their goals.  The supportive Echo Lake environment allows the campers to discover their true capabilities.  I feel very fortunate to watch the girls grow, learn and become more independent as the summer goes on.  I can't wait to see everything that is accomplished by this amazing group of girls during the second half of the summer!