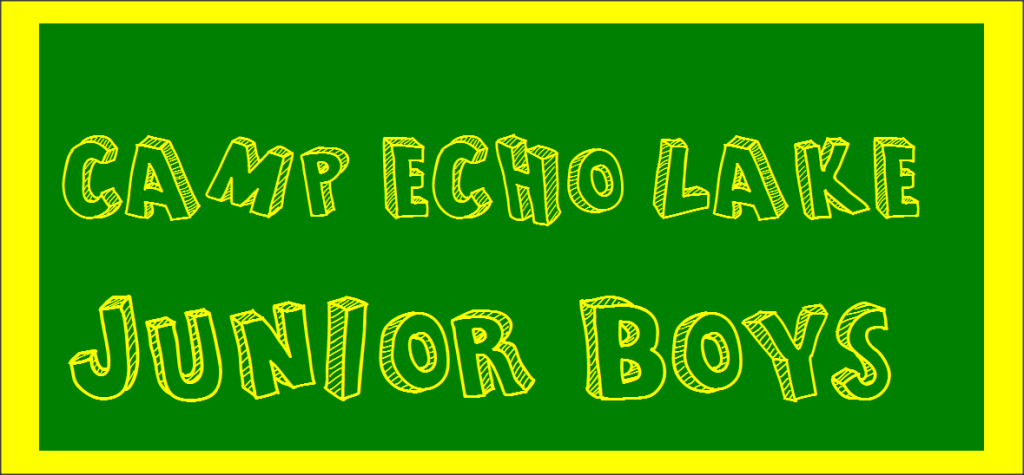 JUNIOR BOYS HEAD COUNSELOR – Patrick McNeece
WATER SLIDE WORLD
All of the Junior Boys went to Water Slide World last Wednesday.  On a perfect sunny day, the boys had tons of fun as they braved towering water slides, shared snacks and shopped around the gift store for souvenirs.  Inspired by Minions, the blockbuster children's movie of the summer, many of the boys purchased little Minion stuffed animals.
Some of the boys were intimidated by the towering water slides at first, but they rose to the challenge and overcame any fears that they had.  As proud as I was watching the boys push beyond their comfort zones, I was equally as proud of them (and our staff) for representing Echo Lake in such fine fashion.  The Water Slide World director made it a point to compliment our campers and staff for being well-mannered and respectful each time that we visit the park.
Even though it's week 6 here at camp, the campers still have lots of energy.  They displayed lots of enthusiasm as they sang in unison on the way to Water Slide World and back.  Off-camp trips are a great way to unwind, break off in to small groups, and simply have fun.
PROJECT MORRY – "SWIMATHON / MARATHON"
All of the Junior Boys and Girls participated in the "Swimathon/Marathon" event to help raise money for Project Morry.  This year's Marathon was a "color run," a special twist created by our LITs who did an outstanding job coordinating the event.  The splash of color was a tremendous hit with the campers who got blasted with colorful powder as they ran laps around the upper soccer field.  Our media team captured some amazing photos of the event, so be sure to check those out!
DRIVE-IN MOVIE – THE SANDLOT
Following the "color run," the boys got to enjoy a "drive-in movie" on the upper baseball field on a gorgeous evening.  Given the location, it was very fitting that the boys got to watch one of the all-time classic baseball movies – The Sandlot.  Drive-in movie night has always been especially magical for me, and this summer was no exception.  I always find myself looking around, taking in the beauty of our Adirondack setting and appreciating the opportunity to share the moment with the genuinely good people that fill this amazing place.
CARNIVAL
Perhaps my favorite all-camp event, Carnival, took place this past Sunday.  In addition to classic games and food (nachos, burgers, hot dogs, snowcones, popcorn, cotton candy and "ZAP" lemonade), four new bounce houses were added to this year's Carnival.
While camp events change slightly each summer, there are some things that never change.  Keeping with the tradition started by his father (Morry Stein), Tony took campers on hay rides around the Boys Camp bunk line and Main Village flagpole.   It's traditions like this that make you appreciate the rich family history of Echo Lake.
INTER-CAMP
A handful of our Upper Junior Boys played up in the soccer inter-camp between Baco, Brant Lake, Walden and Forest Lake.  After a hard-fought battle against Baco, Echo Lake was eliminated in the semis by a score of 2-0.  Our Upper Junior Boys are currently participating in an inter-camp against Southwoods.  Our Frosh and Lower Junior inter-camp (which was scheduled for this past week) was cancelled by Southwoods due to a scheduling conflict.
With the help of our dedicated program team, and Head Specialists who are willing to make changes on the fly, we quickly split the boys up and played "intra-camp" baseball and soccer against each other.  It ended up being a great day of competition that was very well-organized despite the short notice.
COMING UP
Our last week of camp consists of a lot of Tribal/Sachem events.  The kids will also be practicing their team's songs in preparation for the final Tribal event – Tribal Sing.