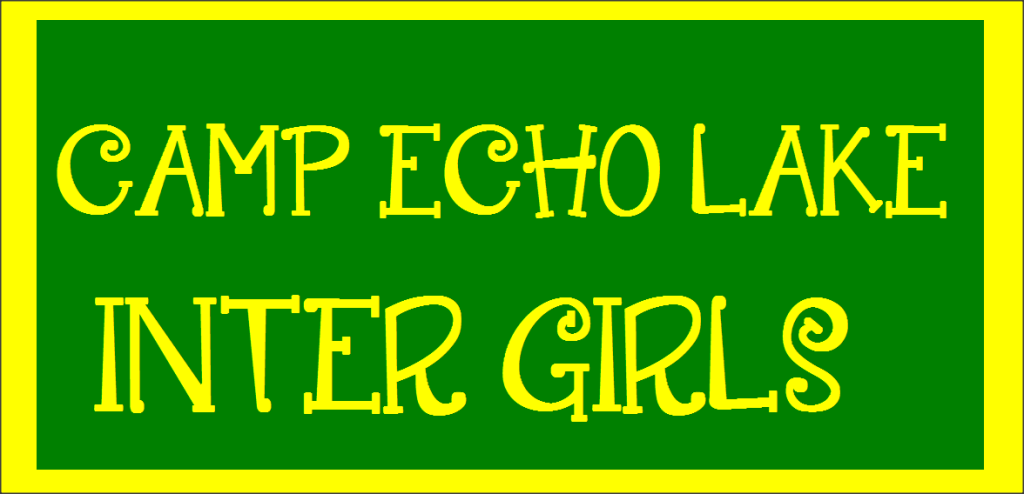 INTER GIRLS HEAD COUNSELOR – Ally Begly
APACHE RELAY – A MICROCOSM OF ECHO LAKE
Apache Relay is one of my favorite events at camp. The two-hour plus relay involves over 400 people and a whole lot of planning on behalf of the LITs and staff.  It's really neat to see every single Inter get excited about their event, whether it be running, painting, bed making, plaque reciting or swimming.  Girls' events may last only a matter of minutes, but I've never seen kids focus with such intensity.  The emotion and spirit at the finish line is great, too.  I love that everyone cheers their team on and shows great sportsmanship when the whole thing is over.  Apache really is a microcosm for all that is great about camp!
MORNING LINEUP TAKES A SURPRISING TURN!
Chet Cutnam was missing for about five days.  Since Babs, Gheri, and Rhonda owed him about $10,000, the suspicion after Special Day focused on the three proprietors of "OFF WITH YOUR HAIR."  Babs, Gheri and Rhonda were all subjected to some tough questioning by Officer Snowflake during lineup.
However, Chet emerged in a delirium from the woods behind Girls' Camp lineup yesterday.  It turns out that he was just suffering from a serious case of heartache, and had spent five days wandering the woods, trying to figure out how to propose to Babs.  We were all incredibly ignorant of his interest in Babs, especially because his raison d'etre up to this point had appeared to center on showing up at lineup to make all of our lives miserable.  Nevertheless – in the words of Selena Gomez – "the heart wants what it wants."
Babs and Chet are officially engaged now, and scheduled to be married on Thursday, August 13th, in the big Girls' Camp Lineup finale, which will take place at The Lodge.
Legally speaking, we're not quite sure what happens when the debtor marries the creditor, but we'll figure it out.  The important thing is that all of Girls' Camp is psyched for the most dramatic end to a lineup in recent memory!
MAKING EVERY MOMENT COUNT
I think that everyone realizes that Echo Lake is the type of place where you get out what you put in. It's hard to believe it, but there are a mere 13 days of camp left!  The summer has truly flown by. We're all trying to enjoy the last week or so of regular programming, and also appreciating camp for the little things…fun games of Drip Drip Drop at basketball, the eternal favorite – grilled cheese lunch, and even bunk time with friends.  Every moment truly does count, and if you let yourself enjoy it 100%, you end up making the best memories!
CAMPFIRES WITH LAURIE
The Lower Inters enjoyed a great campfire this past week.  It's hard to believe that it was our last one of the summer.  The Upper Inters will have their final campfire on Main Village this coming week.
THE SOUND OF MUSIC / POOL PARTY / LUAU CANTEEN
The Lower Inters delivered an amazing performance on The Sound Of Music!  The girls each did an incredible job acting and singing.  The Lower Inters also enjoyed a fun pool party this week.
The Upper Inter Girls West hosted a luau-themed canteen.
TECHNOLOGY-FREE BUNK-TIME BONDING
Every time that I go in to each of the bunks, I really enjoy seeing the bonding taking place between the campers and counselors.  Little moments like conversations that take place over a string bracelet or the chatter about upcoming events are really special.  Some of my most fun memories from my years as a camper took place during the downtime in the bunk.  As a Head Counselor, it is so nice to see everyone being so kind to each other and having so much fun together.  Camp really is like a seven-week sleepover with some amazing people.  Whenever I go around to the bunks, it's a pleasure to see the developing friendships and the girls having fun, never giving thought to the technology that they've lived without for the entire summer.
COMING UP
Everyone is very excited to go to Great Escape on Tuesday!!!  We are all geared up and ready to go. Hopefully, the park is ready for us with tens of thousands of funnel cake portions on hand, because we are coming to enjoy the delicious food.  The girls will also enjoy a drive-in movie on Tuesday.  We will (without doubt) be exhausted but have tons of fun!
Also this week is Morry's Camp Marathon.