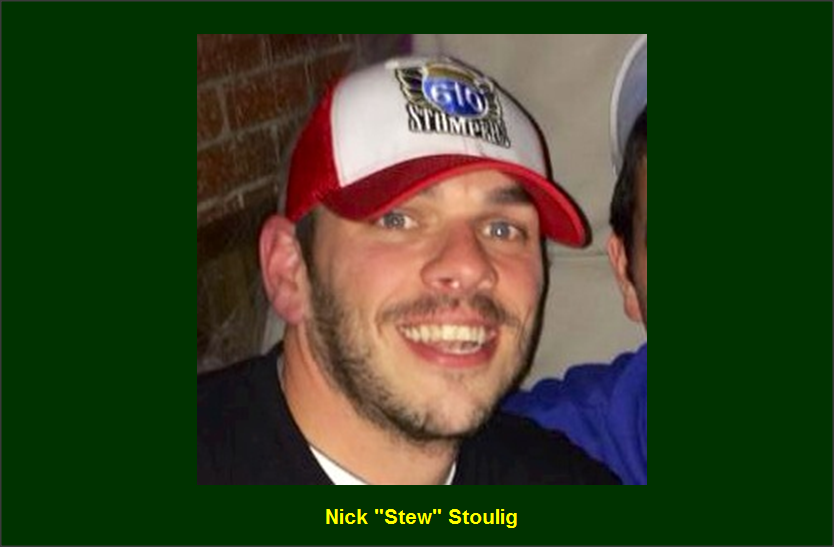 Nick hails from New Orleans and now lives about an hour away in Hammond, LA with his wife, Tara (a fellow Echo Lake staffer), his son, Ethan (Lower Inter Boys) and his 3-yr old daughter, Sophia.  During the year, Nick teaches 12th Grade Civics and Free Enterprise, and belongs to an all-male charity dance group called the 610 Stompers, but his favorite two months of the year are spent in Warrensburg, NY as Program Ops for Camp Echo Lake.
This coming summer will be Nick's 15th year at Echo Lake, his second in the role of Program Ops.  Prior to being elevated to his current position (which was created for him), Nick has spent time as a Cabin Specialist (1999), a Group Leader (2001 & 2003), giving tours to prospective Echo Lake Families (2004-07), Senior Village Programming (2008) and Main Village Programming (2009-12).
Suffice it to say that Nick certainly is prepared for anything that might be asked of him at Camp Echo Lake, which is why he was able to evolve into his current role with no formal job description.  Like a utility man in baseball, Nick is able to handle a multitude of tasks at a high level.
As Program Ops, Nick spends much of his time doing behind-the-scenes work and acting as a liaison between programming and operations for logistical issues, arranging trips and the sharing of information.  He also plays a role in the purchasing and allocation of equipment.  In his "free time," Nick is at the ready to troubleshoot any issues that may arise during the course of the summer.
Even though Nick's role is predominantly behind-the-scenes, he still looks forward to being the center of attention every week as the host of the camper talent show (Friday Night Live).
How many summers have you spent at Camp Echo Lake, and what brought you here in the first place?
The summer of 2015 will be my 15th summer at Camp Echo Lake. I found Echo Lake through a list of camps that the ACA (American Camping Association) put out back in 1999. Being from Louisiana, I looked primarily at camps in the northeastern part of the U.S.  My goal was to get away from the dreadful heat and humidity of home, and go where there were lush green mountains and cooler weather.
Echo Lake provided me with the best of both worlds – ideal weather and the exact type of job that I was searching for as a Cabin Specialist.
What was your childhood camp experience like?
I had a very brief camp experience as a child. When I was 8-yrs old, my parents sent me to a week-long church camp with my 10-yr old brother. It was the first time that I had been away from my parents and relatives for such an extended period of time, and it was a bit traumatic for me because I was very homesick.  On top of that, the food wasn't great, the cabins were very minimal and I didn't know how to swim. The week was rough, however, I found comfort in the arts & crafts program, and on the last day, I truly wanted to stay longer. We never went back to that camp, but the memory of the week that I spent there has never faded.
What do you believe makes Camp Echo Lake special for campers and staff?
I believe that Echo Lake is a special place because of the unexplainable magic that exists at camp. It always amazes me that I get to "work" at a place like this. You are surrounded by people from various countries, backgrounds, ethnicities and beliefs, but none of that ultimately matters because we are all there for the same reason…to create memories that will last forever.  I love watching kids experience the magic of camp on the soccer pitch, the stage or even in a quiet moment by the lake.  Friends made at Echo Lake become friends for life!
How do you spend the 10 months waiting for camp to start?
I work as a 12th Grade teacher of Civics and Free Enterprise in a small town about an hour north of New Orleans. I have worked in education for 15 years now. I was also recently accepted into a charity group of "ordinary men with extraordinary moves" called the 610 Stompers.  However, I truly spend my 10 months just WAITING to go back to camp!!!
What are your hobbies?
I am an amateur photographer and love taking pictures to share with friends and family. I love traveling and eating as well. I consider myself sort of a "foodie."
What are your favorite Echo Lake activities?
My favorite Echo Lake activity, hands down, is Off Track Betting. It gets me so pumped watching all of the campers, regardless of age, cheer and shout for their picks! I also really love World Cup and Apache Relay. Those events always bring out the best in the kids. Their determination to perform is unbelievable.
Please share a fond memory or two about Camp Echo Lake:
One favorite memory of camp that I hold dear is the Lake Placid/Vermont trip with the best group of boys that I had ever been with at Echo Lake. It was kind of a weird summer for us, but on that trip, I came to the conclusion that camp was truly going to be something that was with me forever. Spending time with the kids and the staff that year made me realize that I never want to spend my summers anywhere besides Echo Lake!
Another great memory for me is when I met one of my true friends for life in 1999. It was on the night that the staff found out which bunk we would be in for the summer. Two other staff members and I moved in to our summer "homes."  I stayed up until the wee hours of the night talking with Kevin about everything from sports to cooking. We had so much in common, and our friendship continued to grow throughout the summer. When I got married in 2002, I asked Kevin to stand in at my wedding.  Thanks to Camp Echo Lake, to this day, we continue to visit each other when we can and share in each other's lives.