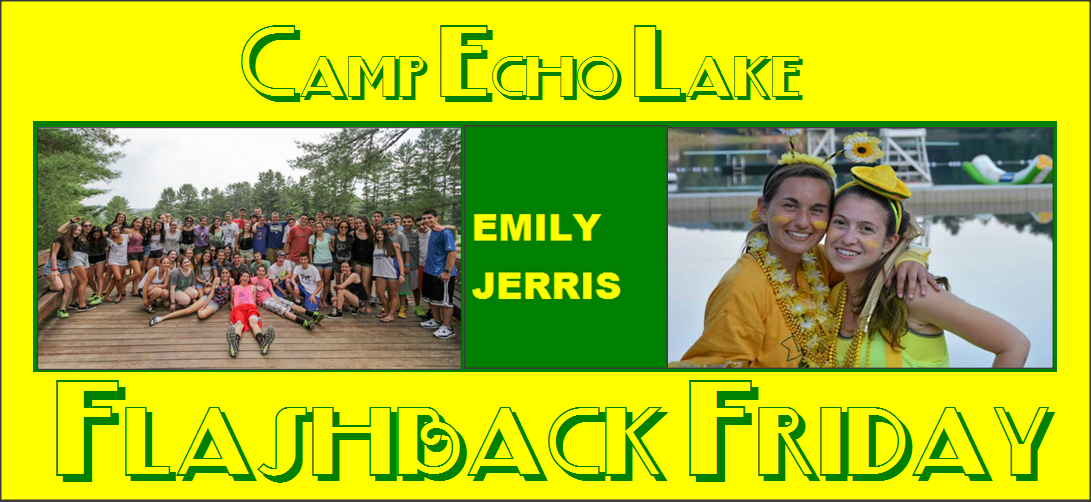 Friends, Friends, Friends
Written by Emily Jerris
"Friends, Friends, Friends, we will always be, whether in fair or in dark stormy weather, Camp Echo Lake will keep us together…"
There are many songs at camp that stand out to me, but one, in particular, helps to sum up every summer that I have spent at Echo Lake. "Friends, Friends, Friends" is a self-explanatory, fun and charming song about how the friends that we meet at camp become our friends for life.
As an LIT this past summer (2013), I never could have imagined having to say "goodbye" to all of my friends and fellow staff members who have grown up with me during my camp experience.  The tears poured down our cheeks as we rolled out of the gates of Echo one last time. Though it's hard to imagine that we can't go back this summer, it's really the friendships and memories that count the most.
For eight amazing summers, I have loved the smell of fresh cut grass, the musky scent of the lake and the sound of laughter filling the air. Waiting ten long and brutal school months for two extraordinary months in the Adirondacks is well-worth the wait! All my friends in Connecticut never understood what sleepaway camp really meant to me. They thought that I was crazy to go away for seven weeks, especially at the age of nine.
I most certainly conquered my first year. It was a year that I will never forget because I met one of my best and closest friends during that summer.
The first time that I stepped onto the Wade Tours bus in 2006, I knew that I was ready to experience a new adventure. I made my way down the narrow aisle to an empty seat, and sat by myself right next to the window. I didn't know any of the girls from Westchester; I was coming to camp blind.  A lot of the girls who were on my bus were also in my group, as I later found out. Some of the girls came from New Jersey and Manhattan and our group leader wanted to start off with an icebreaker game so that we could meet one another.  We became the Lower Junior Girls East, from bunks 6 and 8.  After our group spent more and more time in the bunks and at group activities, I became friends with girls who had the same interests as me (like soccer).
One of the most special memories I have from that summer would have to be from my first Visiting Day, or at least the last ten minutes of it. My parents, sister and grandparents had come to see me.  They were one of the last groups from the wild stampede, walking as slowly as possible down the steep, rocky bunk line. It was like watching the Lion King when Simba is stuck amongst the stampede of wildebeest.  It felt like they were moving in slow motion as I watched from the crowded bunk porch.
It was a wonderful day to show them around the camp.  The day went awfully fast, and when we were given the ten-minute warning, I wasn't fazed at all.  The thing that struck me the most about the end of that day was that every other girl around me seemed to be crying or upset. I didn't hesitate to help my new friends feel better.  I encouraged them to join me at the candy party (more like being inside Willy Wonka's Chocolate Factory).
I remember walking up the bunk line again and seeing one of the girls in my bunk on the sundeck crying with her parents. She was really upset and I felt bad for her. I went over and tried to coax a smile out of her with my unintelligent humor, but she didn't seem amused. Then I thought of the lemon cake that my grandmother had made, so I ran back down to the bunk, right past my family and all the way to back to the sundeck. I offered her the slice of lemon cake, and I saw her slightly smile.  Her parents thanked me and I walked off with a big smile on my face!
After that day, with the help of a kind gesture, we became best friends. It was pretty special knowing that I had a friend that I could trust and share memories with. Fast forward to today; she is one of my closest friends.  Though we may be thousands of miles apart, we utilize social media to keep in touch, but it's our bond, not technology, that keeps us together.
My LIT summer is one that I will never forget. It became clear to me that it doesn't matter whether you are a Chieftain for Tribal, or super-skilled at soccer, or even a great mathematician (which I am most certainly not!).  What really matters is how you treat yourself and everyone around you.
Being a part of one of the largest groups on camp (55 amazing people), you learn to get to know people who you may not have ever spoken to or even acknowledged for that matter. To be completely honest, I never really thought much of getting to know the 36 other campers who weren't on my 4N4 trip. I thought that I knew them, where they were from and everything, but after being mixed around in bunks and groups in Main Village, I came to realize that I was judging people on what I thought I knew about them.

I made 54 new and improved friends with the people who had been around me for eight years.  Each and every one of them has a special quality that makes them who they are. (Thank you all so much for this summer, I miss you guys!)
Finally, I would like to address this to all the newcomers to Echo Lake. I may not be a fisherman, but I will tell you this: Put yourself out there and be the bait that people want to reel in!  I realize that this advice may seem awkward and weird because most people in this day and age don't do that, but that's how you begin a long and happy friendship.  NEVER exclude others! As the Queen of Echo Lake would say…"Be yourself, everyone else is taken."  Stand up and show them your face, and you may become someone else's new best friend too.  I wish you all the best of luck as you begin the experience of a lifetime.  With love – Emily Jerris (LIT – 2013).