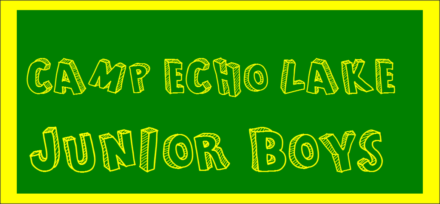 At the end of Visiting Day yesterday I had an opportunity to take a step back and watch for a moment as the campers and staff sat on the Boys' Camp field and ate their candy. There was music playing, people dancing, some were sitting and simply enjoying the moment, and it reminded me that time truly is the greatest asset we have, and yesterday we spent it extremely well.
It seems like I say this in every blog post, but this has been an awesome, jam-packed week for the Junior Boys! On Monday, we kicked off the week with the first ever Boys' Camp Major League Kickball Day. While often times we split the Inters and Juniors into separate groups, but for this day we thought it would be fun to have everyone play together and form a major league of 16 teams. To do this, we split the boys into East and West conferences and then Coastal and Midland Divisions. The Midland teams played their home games on regular baseball fields, while the Coastal teams played their home games on our wet and wacky fields which were equipped with swimming pools in place of bases. It was a fantastic day and in the end, it really showed how at camp, even the simplest of ideas can be a great and memorable experience!
On Tuesday, we were back to regular camp activities, but that evening the Frosh and Lower Juniors went bowling and the entire group were incredibly talented bowlers. It was a great evening off camp and everyone appreciated the special snack when we returned. So much fun!
On Thursday, the weather was finally nice enough for us to enjoy one of Boys Camp's famous events: Challenge Night . Challenge Night activities included Basketball, Wiffle Ball, Ultimate Frisbee, and Volleyball. While we are always playing and having fun at Camp, it is nice to sometimes have a little friendly competition with your peers. Challenge Night is a great way to do this while also giving everyone an opportunity to play with/against campers from other groups. Excellent sportsmanship was exhibited by all!
On Friday, rather than having Friday Night Live (our weekly talent show) the Frosh girls and boys performed a musical revue of Schoolhouse Rock. I am sure many of you have seen the video online, but I think it is worth mentioning that this is one of the most artistic and talented group of Frosh that I have seen… kudos to those boys!
Finally, as we know, Visiting Day went off yesterday in masterful fashion, and afterward the Lower Village hosted a wonderful Halloween in July Celebration for the Main Village groups. The Junior Boys were dressed up as everything from athletes to ice cream sandwiches. It was great to see everyone get into the spirit!
Finally, we concluded the day by lighting the Tribal Torch and learning the 2017 Tribal themes. This year Iroquois and Mohawk will be represented as Father Time vs. Mother Nature. These themes will inspire the plaques in the dining hall, and the tribal songs that are sung in the last week of camp.
This coming week we are really settling into our groove at camp. We have more trips, pool parties, exciting special events, campfires, and much more in store! Stay tuned and I look forward to updating you next week with more of our amazing adventures!