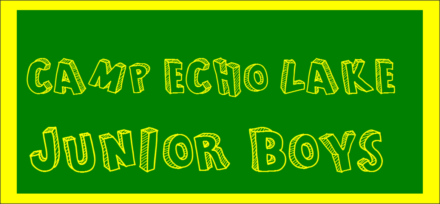 It is hard to believe that we are already in our last week of Camp.
Looking back at the past 6 weeks, we have truly had one of our best summers to date and we are certainly getting set to end things on a high note. Over the last 2 weeks, in particular, the Junior boys have had nonstop fun, excitement and adventure! We have gone to Waterslide World (which was unfortunately cut short by the weather), we have had a number of trek hikes and off camp trips, we had our famous Junior Special day, and much more! While I don't have time to mention everything in one post, I will highlight some of my favorite moments of the last few weeks.
In terms of special day specifically, the Junior boys had a wild, fun and crazy day doing all the activities that they love to participate in. For the Frosh, the theme of the day was Power Rangers and they participated in everything from Art to Dodgeball (against Extra Terrestrial Life Forms), and everything in between. The LJBEs had a Mario Party themed day where they had to conquer each of the levels of their special schedule such waterslides in the water world, zip lines in the Sky World, and much more. The LJBWs, having a Pokémon themed day, started their morning with a hunt for Pikachu, but after that they had a fun and sometimes wet day with waterslides, art, movies and a special snack. Finally, the UJBs decided to have their special day all together as the LITs of 2023; their day began with a pool party and they had a fun and sometimes relaxing day just being one unified group. I am sure you saw a lot of the pictures posted from that day, but I cannot overstate how special this day really was!
I missed it in my last blog, but another major moment of the last two weeks and of the Junior Boy summer was the Tribal Apache Relay. In this event we have 120 events for all the main camp campers, all ending in a sprint between two Upper Inters from the front gate to the flagpole. The Junior Boys participated in a diverse range of events and it was fantastic to see everyone so into the day!
Some of the best pictures I have seen this summer came from the night when the boys participated in our annual color run. It was a great day of supporting Morry's Camp and it was capped off with a phenomenal run on the upper soccer field. The LITs really got into throwing the colored powder all over the place and it made for an incredibly pretty and vibrant evening.
Finally, this last week is not just full of fun, special and exciting moments, but it is also a time to reflect on everything we have accomplished over the course of the summer. In just 7 short weeks, the Junior boys have really left an impact on Echo Lake. The Frosh Boys have stormed onto the scene with a "never quit" attitude in everything they do. The Lower Juniors are rolling along with 50% new campers in each group adjusting extremely well. The Upper Juniors have beautifully taken on a leadership role in the Juniors and continue to unite every day. Overall, it has been a joy to work with each and every camper in the Junior Boys and it truly shows that camp is in good hands for the foreseeable future.