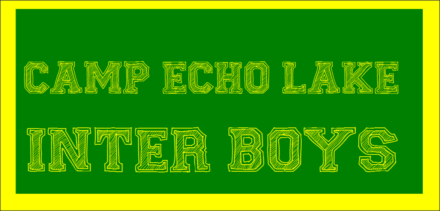 The Inter Boys rocked this past week!!!  After a wonderful day spending time with parents, siblings, and various other relatives on a beautiful Visiting Day, the Inters had a candy feast on the upper baseball field.  Their love of sweet treats seemed to be unquenchable!!  After a fun candy party, the boys got dressed in their Halloween costumes and headed over to the Senior Village.  These boys were very creative in their costume choices and enjoyed a night filled with games and even more candy.  Once they consumed their last bits of candy, the boys headed over to the lower softball field for the unveiling of the 2017 Tribal Themes.  The themes for Tribal 2017 are Father Time (Iroquois) versus Mother Nature (Mohawk).  GO GREEN – GO GOLD!!
Regarding Tribal, the boys gave their all in two Tribal events over the past week.  Tribal Track saw Iroquois take a commanding lead over Mohawk in the overall Tribal scores.  However, a great showing by Mohawk in yesterday's Tribal swim and Tribal Inter Arts saw the gap close between the two teams to within 40 points.  It is so fun to see these boys compete and cheer each other on as they give their all!  Way to go Inters!!!
This past Wednesday was Inter Special Day!!  Pirates, Vikings, Knights, and Greek Gods paraded around camp participating in various fun and unique activities to celebrate their group themes.  As Hades, I got to dole out "punishments" to the counselors based on the camper's reported violations.  In addition, there were slip and slides, obstacle courses, paint competitions, archery competitions, and scavenger hunts that made this day unique.  As always, we ended the day with the greatest camp treat…THE CHIPWICH!!!  The boys had a wonderful day and made many memories along the way.
Another highlight of the week was the Upper Inter Bowling night.  The Inter boys and girls headed to Lake George for some bowling action at Lake George Lane and Games.  The boys had a blast with their counselors and enjoyed some fun, candy, and even another CHIPWICH!!!  I'm glad I had time to SPARE and STRIKE up a good time with these boys!!!
We are looking forward to the upcoming week with fun events such as World Cup, Winter in July and more!!!
Stay tuned for more fun!!