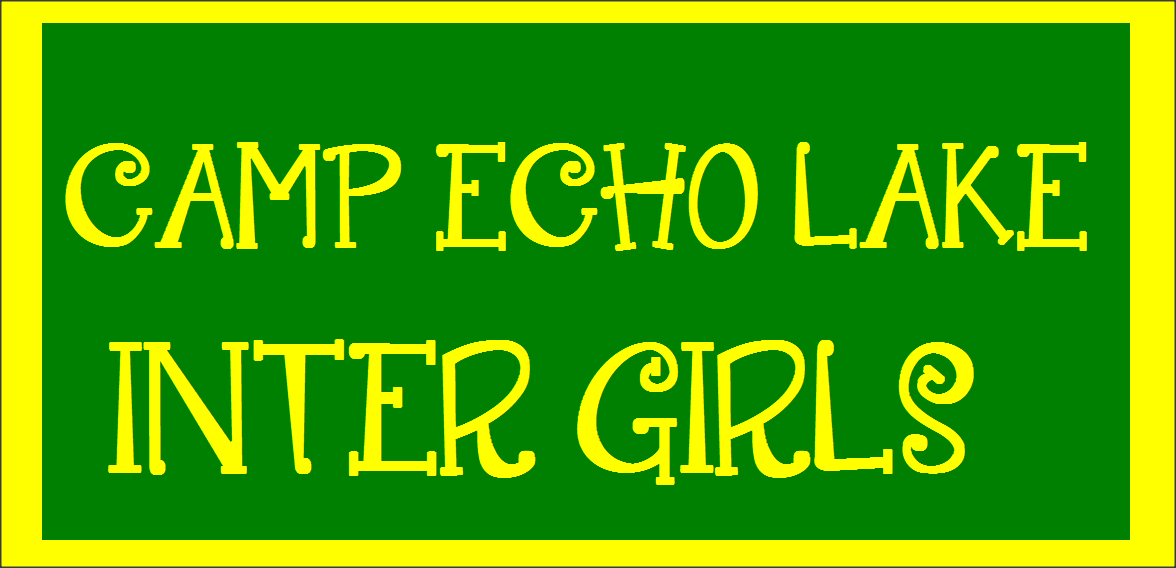 Inter Girls Head Counselor – Becca Zukowsy
SPECIAL DAY
This Inters Girls took a break from their regular activities this past week to take part in activities specially planned for their group on Special Day.
The Lower Inter Girls East began their day by watching
Parent Trap
, which was followed by homemade facials. The girls finished their day with an obstacle course through the sprinklers and a messy paint and shaving cream fight.
The theme for the Lower Inter Girls West's Special Day was "High School Musical."  When the day began, the girls thought that they were going to paint sets for the "school play," but it ended up being a paint fight with the Head Staff. After the paint fight, they headed off to the basketball courts to learn a choreography routine that included basketballs.  The girls finished their day by watching
High School Musical 2
, and attending a pool party.
The Upper Inter Girls East and West planned their Special Day together, which the campers enjoyed because these two groups love spending time with each other!  The girls began their day by waking up Senior Village and then watching a movie in their bunk. In the afternoon, they played a very messy game of twister and then swam in the lake together. They ended their Special Day by making tie-dyed t-shirts.
The girls were all laughs and smiles during their Special Day activities! They made sure to show their appreciation to their counselors who planned such a great day for them by publicly thanking them at evening lineup.  What a fun and memorable day on Main Camp!
AN ATTITUDE OF GRATITUDE
The Inter Girls showed a real appreciation for their staff after an amazing Special Day. All of the staff members were truly touched by the girls recognizing how hard they work to make camp a memorable experience for every camper.  As the oldest campers on Main Camp, showing appreciation for others is an excellent way to model what Echo Lake is all about for the younger campers.
TRIBAL INTERARTS
Tribal Interarts took place this week. Tribal Interarts is when the LITs (and sometimes Senior Village campers) showcase their artistic talents during evening activity. Each performance (dance, skit, song) is worth 10 points towards the overall Tribal scores.
The girls are always so excited to watch Tribal Interarts because they all look up to the LITs as role models. Seeing the LITs taking the stage and leaving their comfort zone is a great lesson for the rest of the campers, as it inspires them to do the same.
INTER-CAMP GAMES
This past week, the Inter Girls traveled to Camp Point O'Pines for a perfectly-timed swim meet on a very hot day.  They also went off camp for a tennis tournament in which Echo Lake placed first in singles and doubles!
BOWLING
We surprised the entire Inter Girl Division this past week with a trip to the bowling alley for their evening activity.  It's not easy to surprise these girls, but we finally caught them off guard!
"I LOVE A RAINY NIGHT!"
One of the things that I love most about the Inter Girls is their ability to make the best of any situation.  We had bunk time as an evening activity one night this past week because of the rain.  I got to pop into the girls' bunks to join in on all of the fun, which included talent and fashion shows. Each group made the most of being inside during the rain, and the girls actually seemed to enjoy bunk time as an evening activity.
COMING UP
The Lower Inters have been working really hard all summer long, and are very excited for their turn on stage as they perform
Shrek
this coming Saturday!