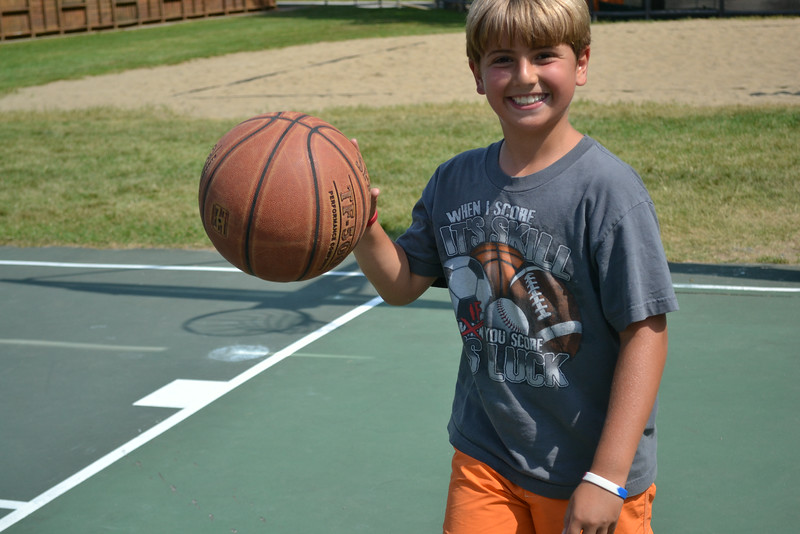 In recent weeks, we have featured articles about Camp Echo Lake's Outdoor Program and an extensive look at our Waterfront Program.  This week, our Program Director, Matt "Jacko" Jackowitz provides a look at each area of our Athletics Program.
Written by Matt "Jacko" Jackowitz
We are very proud of our Echo Lake Athletics programs.  Below is a description of each of our outstanding athletics areas.
ATHLETICS – Our Athletics Department was a great addition to our program last summer.  The sole purpose of our three person staff – comprised of people with strong physical education, teaching and coaching backgrounds – is to support our instruction, tournaments and intercamps.
BASEBALL – We can't wait to get our campers back on the ball field this summer.  With three diamonds, two batting cages and two pitching machines to offer to our campers, our baseball staff is raring to go.  In addition to competing in tournaments and intercamps, our main camper boys also enjoy MLB Day during the summer.
BASKETBALL – In addition to our two outdoor courts we also "hoop it up" in our newly-built Field House.  Glenn Begly and his crew of three activity specialists lead campers through great activities, awesome NCAA days and countless tournaments and intercamps.
FITNESS – Our year-old fitness center is filled with state- of-the-art equipment.  Beyond the gym, we also do a lot of cardio and aerobic activities with our campers.  With a dedicated fitness specialist, we ensure that campers are sweating all summer long.
GOLF – With two golf specialists, we tee it up all summer long both on and off camp.  On camp, we have a driving range net, putting green and chipping nets, which helps campers to fine tune their game.  Off camp, we visit two par-3 golf courses 4-5 times per week (for campers who are ready to take their games to the next level).  We also host a golf tournament every summer against other camps.
GYMNASTICS – Our recently built gymnastics pavilion is home to all sorts of tumbling, jumping and flipping.  With three specialists, small groups and top-notch equipment, we are able to offer our campers the chance to develop their gymnastic skills in a safe and fun environment.
HOCKEY – Back for another summer at the "Thunderdome," we are taking our hockey program to new heights.  As you have probably heard about by now, we have added three hours of ice time this summer to our program.   Inside the "Thunderdome," our hockey program consists of both roller and street hockey so that all kids can participate in activities, intercamps and tournaments.
LACROSSE – We have two lacrosse specialists to provide instruction to our campers.  For the first time in many years, we will be playing in lacrosse intercamps, and our boys will be traveling to compete against boys from a local lacrosse club.  We are excited to see the Echo Lake Lacrosse program continue to evolve!
SOCCER – Our three soccer specialists can't wait to get started teaching our campers the beauty of the world's game.  Soccer is a fixture of our athletics program.  We have two fields, maximizing our ability to offer soccer all of the time.  In addition to playing soccer, the game of futsal took Camp Echo Lake by storm last summer, and we are excited to see it grow.  Our campers enjoy activities as well as countless tournaments and intercamps.
SOFTBALL – Windmills galore as we get ready for another great summer of softball.  Most of the fun takes place on the lower diamond on girl's camp.  We use the pitching machines and batting cages to help our girls develop their skills under the guidance of our softball specialist.  We also compete against nearby camps in both tournaments and intercamps.
TENNIS – We are excited to welcome you to the Echo Lake Tennis academy this summer.  In addition to the activities and tournaments (which are mainstays of our program), we are also offering private lessons this summer.  We have 10 specialists who are excited to teach campers on our 16 tennis courts.
VOLLEYBALL – There is nothing quite like getting your toes in the sand as you get ready to bump, set and spike!  Our two sand volleyball courts offer a great chance for campers to get their fill of volleyball.  We have a dedicated instructor who is excited to teach the finer points of the game.
YOGA – Yoga regularly takes place in the Rec Hall located on main camp, but sessions may also take place in the lodge in senior village, grove pavilion in main camp and various outdoor locations on camp.  Our yoga program features activities designed by our specialist to maximize learning while improving each camper's skill level in a fun and safe environment.