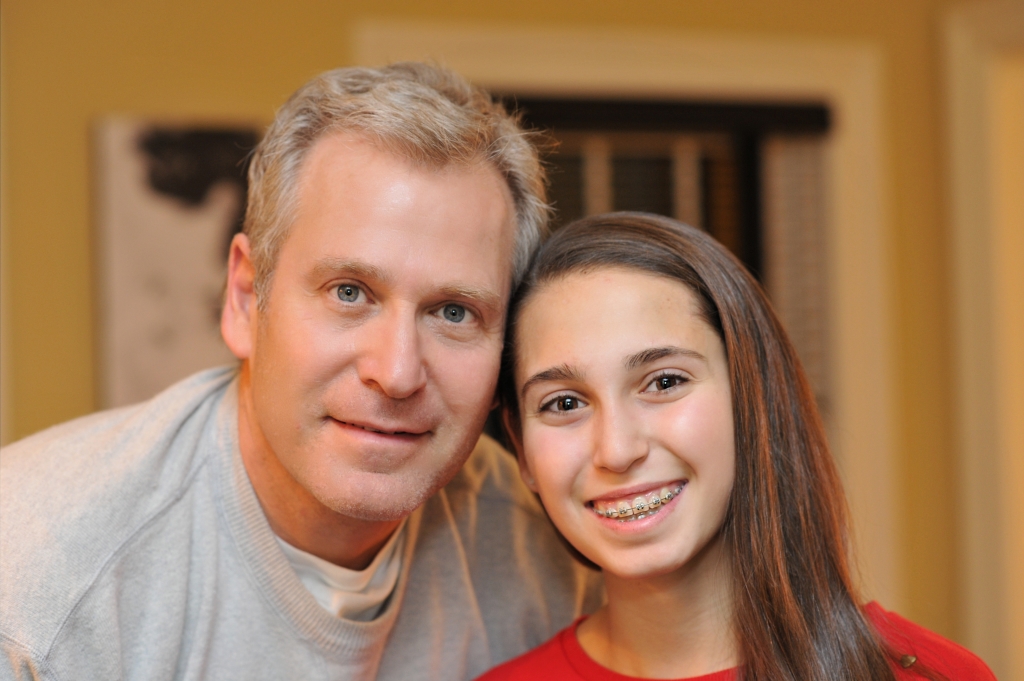 Camp Echo Lake's own, Zoe Butchen, is spearheading "Dance/Shake/Donate," a campaign to help raise money for Parkinson's Disease.
Zoe will be entering her seventh summer at Echo Lake in 2015.  Ever since she was a young camper, Zoe has always empathized with those around her.  She has inviting warmth, extraordinary camp spirit and a caring heart, so it comes as no surprise that she has taken the initiative to create this campaign after her dad, Jeff, was diagnosed with Parkinson's Disease.  We are very proud to call her a valued member of the Echo Lake community.
In the following interview with Zoe, she discusses learning about her dad's diagnosis, the inspiration for the Dance/Shake/Donate campaign, her connection to the Michael J. Fox Foundation for Parkinson's Research and more…
When you found out that your dad had Parkinson's disease, it must have come as a shock.  What was your reaction to finding out the news, and how long was it before you and your family starting joking with your dad, telling him to "shake it off?"
When I first found out that my dad had Parkinson's, it was definitely a shock.  We started joking with my dad pretty quickly after it had a chance to sink in, and we started telling him to "shake it off."  In fact, it became something that others were joking about as well.  For example, one of his good friends texted my dad the next day with the simple message "What's shaking?"  Once we heard about that, we knew that we had the green light to make it more fun than sad.
You've been involved with doing charity work since you were 10 yrs old.  Can you talk about how you got started? 
I come from a philanthropic family that believes that donating your time and energy can sometimes be more valuable than donating money to a cause.  When I was 10 years old, I realized that my dance costumes were collecting dust in our attic, and assumed many other dancers were doing the same thing with their costumes.  I realized that I could collect these costumes and re-distribute them to less fortunate dance schools and children who love the arts as much as I do.  From that simple idea, www.DanceDontations.org was created with the help of my parents.   So, if anyone has dance costumes that they are not using, I would be honored to get them in the hands of children who need them.  You can visit DanceDonations.org for more details.
How long after your dad was diagnosed did you come up with the idea for "Dance/Shake/Donate," and was it inspired by the ALS Ice Bucket Challenge?
The idea was created a-year-and-half after my dad's diagnosis.  Yes, the ALS Ice Bucket Challenge was a big part of my inspiration, knowing that it had raised over $120 million dollars in a short period of time.  While my goal may not be as big as that, I am hoping to raise at least $100,000 for the Michael J. Fox Foundation, where 100% of the donations go directly to Parkinson's research.
With the Ice Bucket Challenge, people were asked to either accept the challenge or make a donation to ALS.  What are you asking people to do?
We're asking people to do the following:
Dance and Shake to Taylor Swift's "Shake It Off" (solo or as a group)
Post the video on Facebook and/or Twitter
Make a donation through the donation link at DanceShakeDonate.com.
Challenge at least three individuals, families, groups, teams, etc. to do the same.
It would be great if they can hold up a large sign in their video that says DanceShakeDonate.com, and reference that details and donation info can be found on that site.
I can't stress how important it is for people to make videos, nominate others and make donations through my link in any amount.
How much money have you raised so far, and what is your goal amount to raise?
We are approaching $22,000 in 3 weeks which we are hoping will get to $100,000+.
How did you end up teaming with the Michael J. Fox Foundation for Parkinson's Research?
My parents attended a conference that showed us how amazing the foundation was at sharing and providing information, and supporting amazing research to find a cure.  When we called the foundation to see if they would support our charitable effort, they could not have embraced us more.  They created a team web page for me, and provided messaging support through their blog and Twitter account.  They have even been so gracious as to invite me to a special event dinner where Michael J. Fox will be recognizing my efforts.
What impact do you feel that your positivity and proactive approach had on your family dealing with your dad's diagnosis?
I'm not sure that I can take credit for my family's positive attitude since it's my dad who has been leading our positivity.  He's been amazing at sharing a life lesson that you can't change certain things in your life, and the only way that things can be better is when you have a positive attitude and make lemonade out of lemons.
He's even gone so far as to tell us that this has been a blessing, since he can truly make a difference in the lives of people diagnosed with Parkinson's Disease after him.
Like most high school students, I'm sure that you're very busy with school and extracurricular activities.  How much time do you spend working on Dance/Shake/Donate?
I'm always working on Dance/Shake/Donate, since it's something that is part of my life right now.  I am busy with interviews, blog posts, responding to emails, watching videos that are posted, and commenting on them to say "thank you" to the many people that have donated.
If you could get a message to Taylor Swift, what would you say to her?
I know how busy she is promoting her new album (which is amazing by the way), and I'm sure she also receives a lot of requests to support many charities, but it would mean the world to me if she would Tweet and/or post a link to DanceShakeDonate.com on her Facebook page.  Perhaps a few minutes of her time could translate into much larger donations benefiting the Michael J. Fox Foundation for Parkinson's Research.
Thanks for sharing your story, Zoe.  We wish you the best of luck on your campaign!