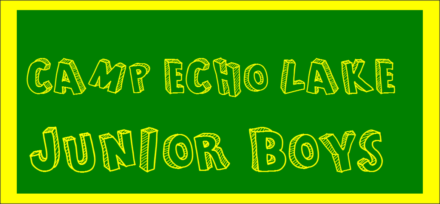 By Juan Delgado (Junior Boys Head Counselor)
Camp is the only place in the world where time moves fast and slow at the same time. On one hand it's been less than a week since the Junior Boys have arrived but on the other hand so much has happened that it feels like we've been here for years. As a first year Head Counselor with the Junior Boys it's been such a pleasure to meet all Juniors over the past few days.
New Campers Welcome!
With so many new Junior campers, it's been our goal as a staff to help each one acclimate in their own way to Echo Lake.  In the first week we are making a conscious effort to achieve two things:
1. Make sure every camper has a connection here at camp.
2. Find out what their interests are.
We are working hard to make sure that new campers feel like Echo Lake is a safe and comfortable home for the summer.
Longevity Awards
The Longevity Awards capped off the first night of camp. Many of the Juniors received their three year shirts, while both myself and my partner in crime, Rob Cooper aka "Coop" received our 5 year sweatshirts.  The night ended with a very special ceremony for Terry Begly who is celebrating who 40th summer at camp. Now there's someone who loves Echo!
Fairytale Theatre
All Main Camp campers took part in Fairytale Theatre on Monday night. The event was a twist from the past two summers, where each group was given a fairytale to act out in front of the entire Main Village. The Junior Boys did not disappoint with an incredibly funny take on the Lion King, Hercules, Aladdin, Humpty Dumpty, and The Three Little Pigs.  It was a fun and silly way to start off the summer.
Coming Up
This weekend is going to be great! The Frosh are going to be enjoying the first ever "Juance Upon a Time" during the evening program, while Tony will be hosting Flashlight sing for both Upper Junior Groups. Look out for more updates from the Junior Boys next week!