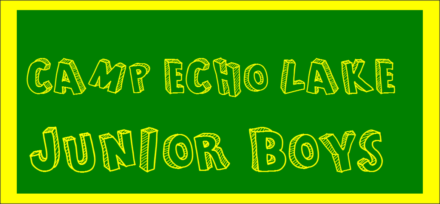 by Juan Delgado
It's cliché to say the summer has gone by fast, and in many ways it has, but we've been able to pack so much in and see so much growth from the Junior boys that I'm left in awe that the kids have only been here seven weeks. Today as the buses pulled away I was incredibly sad to see the faces of our campers; boys who we hear everyday making up games or laughing at some silly joke, or singing a new song that they learned at campfire. It's been a great summer and I'm so glad I made the decision to come back after being away from the Echo for a few years.
NFL Day
In our final week at camp we had our very first Flag Football Tournament for the Juniors. We made the decision to have staff be the QB's, which worked out well because the kids were able to learn the basics of playing football. In the end the Eagles won the Jr. Boys Super Bowl, but more importantly all the kids had a really good time participating in this new tournament.
All Camp Campfire
On Wednesday night the entire camp came together to celebrate one last campfire. The night was filled with songs, (yours truly did a wonderful rendition of the bubblegum song, ask your kids), presentations by all the head counselors and wish candles from every group on camp. It was amazing to have the entire camp together to celebrate the summer in an entirely new way.
Tribal Sing
Tribal sing can be a very emotional event for a lot of our campers, after hours of hard work rehearsing this is the final event in Tribal and it goes a long way in determining the winner. At the end of the event a lot of the campers, especially the LIT's are overcome with emotion as they realize the summer is drawing to a close. However, when you're a Frosh boy it can be a bit confusing as to why so many of the older campers are crying. One such Frosh boy thought he would join in on the tears and despite not wanting to cry he tried to use his water bottle to create fake tears on his face. Myself and a few other head counselors watched and had to smile at the very innocent moment that we just witnessed. When we asked what he was doing he simply responded, "I'm trying to make tears." This is what makes working with the Junior Boys so interesting, in their own way they are constantly learning.
This summer has been amazing. I've been so lucky to spend seven weeks with this wonderful group of campers and make memories that will last a lifetime. Thank you so much for letting us hang out with your kids, I feel like we've learned more from them then they have from us.
Until next summer!
Juan Rafael Delgado III
AKA Jon Ronson
AKA Jonita Ronson