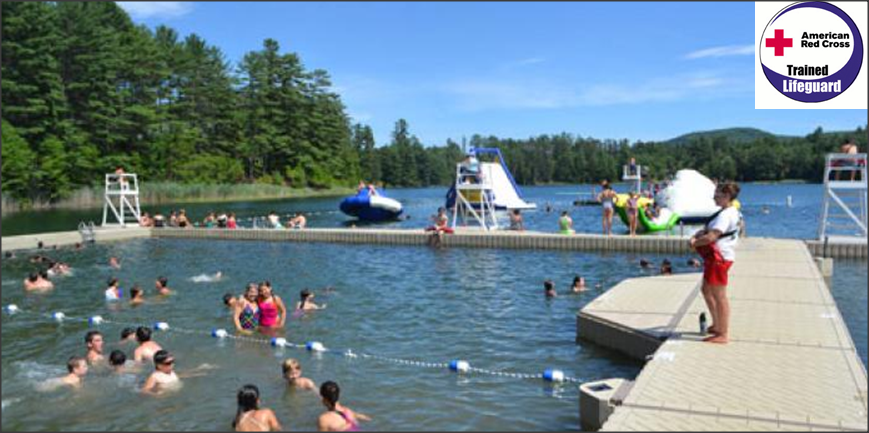 Written by Terry Begly (Waterfront Director)
First, foremost and always, from the moment that the campers arrive at Camp Echo Lake, until the last bus departs at the end of the summer, safety is the primary mission of our waterfront staff.  Of course, we want and expect each camper to improve their swimming and water activity skills, but before that can happen, we take every possible step to ensure that campers who come to any water activity are properly supervised and have the necessary skills to participate safely and confidently.
Like all of the counselors, the waterfront staff is rigorously screened for skills, maturity and commitment to the mission of Echo Lake.  In fact, we bring the waterfront staff to camp a full week before regular staff orientation begins.  During this time, all waterfront, boating, TREK (outdoor) and 4n4 staff are Red Cross certified in lifeguarding, CPR and first aid.  Those possessing these credentials when they arrive at camp receive the training as a refresher course so that we can make certain that everyone is equally prepared.  Once the training is done, all staff who supervise the campers on or around the water are completely equipped to do so.
For the Echo Lake waterfront staff, the training doesn't end there.  We learn and repeat emergency drills until they become second nature.  Waterfront staff learn the skills necessary to conduct general swims, lake swims and all other waterfront activities.  By the time that the regular staff arrive, we will have become a close knit group in which each member knows his/her role in maintaining a safe waterfront for the campers to enjoy.
Cabin specialists and activity specialists also participate in a detailed waterfront orientation.  They are trained to assist the waterfront staff so that during each waterfront activity, there are many sets of eyes on each camper.
One of the first activities that campers participate in once camp begins is a session on waterfront rules and procedures.  All campers receive the same message, and hear the same expectations for safe and enjoyable participation, regardless of how long they have been attending Echo Lake.
Each camper is evaluated by the waterfront staff to assess his/her swimming ability.  During this evaluation, we are looking mainly for confidence in the water and endurance.  The results of the evaluation allow us to place each child in one of three categories for general swim:  Shallow, Middle and Deep.  The initial assessment is often just a starting point, as many children who don't swim much at home, quickly improve in strength and confidence and move up to another level quite rapidly.  For those for whom this presents a bigger challenge, we immediately begin one-on-one lessons so that each child can move on to the highest level possible.
This is part 1 of 3 in our waterfront series.  In part 2, we will discuss how we help campers to reach their potential as swimmers.
If you haven't already done so, please make sure to subscribe to The Trail so that you don't miss the rest of this series, or any other important information that we will be sharing as camp approaches.