Read all the articles from this issue.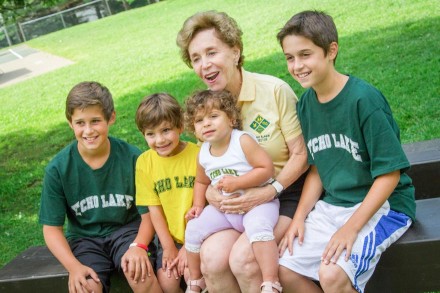 Wow!  Wow!  Wow!  They are coming by land and by sea – from London, Mexico City, Toronto, Cleveland, Denver, Miami Beach, Montreal and all points east, west, north and south.
We are going to have a whopper of an event celebrating the 70th Anniversary of Camp Echo Lake 1946 – 2015.  And why not?  It's the finest camp on the planet molding minds, doubling up on self-confidence, expanding programmatic horizons, cementing life-long relationships and on and on and on!   We are proud as punch and look forward to celebrating with all of you sensational people – alums primarily, well, exclusively, actually, and spouses and significant others are welcome, of course!
PLEASE MARK YOUR CALENDARS AS THIS IS AN EVENT NO ALUM CAN AFFORD TO MISS!
Join us for the 70th Camp Echo Lake Reunion September 18 – 20, 2015!
We can't wait to see you and of course, we will have some kind of fun!
More info to follow!  Stay tuned, friends!  Don't anyone go away!
Much love,
Amy