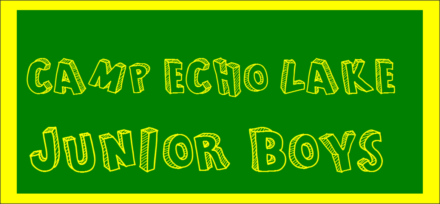 The first week of camp is in the books and the Juniors Boys are off to a great start forming great bonds and connections.

Despite getting rained out of some court sports last week, we had a number of programmatic highlights that kept things fun and interesting. To start, we hosted one of my favorite camp activities, "The Mostest" – a simple, fun game where groups compete in various categories from funniest joke to best original song, all planned on the spot. We also had our first Frosh and Lower Junior Campfire, as well as a wonderful Friday Night Service/Friday Night Live. The highlight of the week had to be our Main Village Lip Sync Battle last Monday night where groups had a chance to show off their creativity and silliness in front of all their new camp friends. Bravo!
One of the changes we made to camp this summer was to hang signs in every cabin that read "Be Nice. Try Hard" and to place our CEL Foundations (Safety, Connection, Empathy, Effort, Resilience, and Discovery) in frequently visited areas. In the first week, the Junior Boys certainly subscribed to the philosophy of being nice and trying hard, and as a weekly point of reference for this blog, I want talk about one of our Foundations.
This week, I feel it is most appropriate to talk about discovery! Coming to camp for the 1st time, 2nd time, or even 7th time can be challenging. It is never easy to leave home and try something new. When it comes to discovery, as "Echo Lakers we try new things, build new friendships, and continue to learn new skills in order to grow and develop," and there is no better foundation that represents our Junior Boys this week. Not only have they connected with each other, tried new things, and adjusted to camp extremely well, they are also looking forward to all the fun and exciting opportunities that are on the horizon. There is no better place than camp to take risks safely, learn more about yourself, and develop as a person, and our Junior Boys are off to a great start int this department!
I will check in with you again next week after our trips to the movies, tribal break (???), Group sing, fireworks, OTB (another favorite of mine) and much more!!

Matt