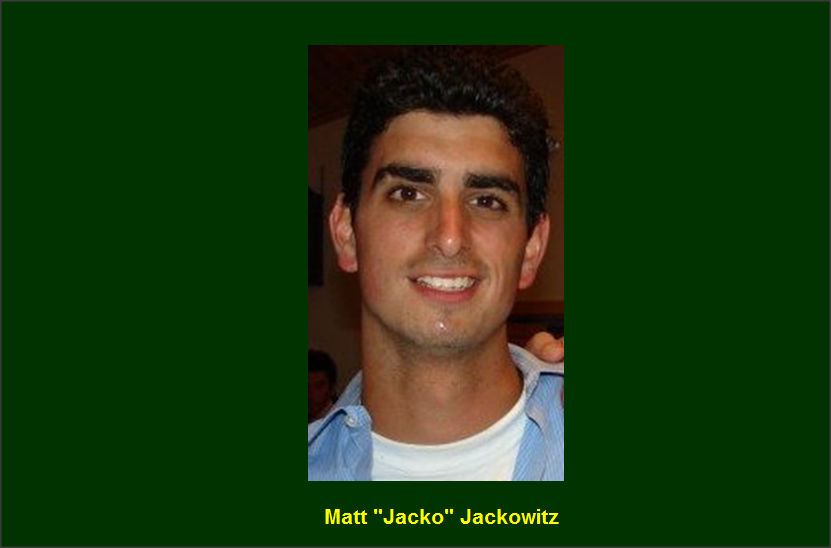 Matt (known to most as "Jacko") has literally grown up at Camp Echo Lake, starting as a Lower Junior in 1992.  He joined the staff in 2000, handling numerous roles before being named Program Director.  Prior to joining the Echo Lake staff, Jacko worked as an intern at the American Camp Association's New York office.  He continues to represent Echo Lake in a variety of ways through his work with ACA.  In addition to his work with the camp and the ACA, Jacko works with Project Morry as a member of their Young Professionals committee.

Jacko works with a team of three coordinators to execute the activity side of things at Camp Echo Lake, everything from electives to events.  The coordinators each focus on the needs of a particular area (boys, girls and senior village).  This system ensures that everyone at the camp is represented programmatically.

Jacko is responsible for creating the schedule during the summer.  This is an ever-changing responsibility because the programming changes from year to year.  Along with his staff, Jacko pre-plans core activities, and fills in the rest of the schedule with customized activities based on the feedback that he gets from his staff.  He and his staff are as proactive as possible, but pride themselves on their ability to be flexible and reactive as the need arises due to inclement weather or other unforeseen circumstances.
How many summers have you spent at Camp Echo Lake, and what brought you here in the first place? 
This will be my 23rd summer at Echo Lake.  I spent my first eight summers here as a camper.  My parents toured Echo Lake without me, met Tony's parents (Morry and Amy Stein), and decided Echo Lake is where they would send my twin sister and me.
What was your childhood camp experience like? 
Echo Lake was a place where I made great friendships and learned a lot about myself.  Like most children, I am not sure you fully realize the impact of camp until you are older.  I think the lessons that I learned as a camper motivated me to want to pursue a career in the camping industry.  The ability to impact others the way I was impacted was a driving force as well.
What do you believe makes Camp Echo Lake special for campers and staff?
Campers get to learn new things and expand their horizons by leaving their comfort zone to take chances in a safe haven. I am always amazed when I see a child stand on stage in front of 800 people signing a song, even if he or she is not a particularly good singer.

Ultimately, camp is about the relationships that are formed.  Even though we are only together for 51 days each year as a community, the relationships that are formed here are strong and stand the test of time. Echo Lake is also an ideal setting for skills development.
How do you spend the 10 months waiting for camp to start?
I'm one of the fortunate ones who work full-time for Echo Lake.
What are your hobbies?
When I am not at camp I enjoy watching sports, skiing, traveling and hanging out with friends and family.
What are your favorite Echo Lake activities?
My favorite activity to plug into is General Swim, particularly in the lake.

My favorite special event at camp is Echo Mania.  It's our version of Wrestlemania, which takes place every two years (alternating with Alawatchakeema).  We have four or five funny wrestling events where the characters that we've created lineup against each other.  Everyone really enjoys seeing the head staff compete against each other.  It's a funny event that appeals to all of the different age groups at Echo Lake.

Ultimately, it really is about the magic of camp, where everyone is totally engaged.  There's a certain playful lunacy that is allowed to exist at camp.  I love our ability to create moments like that for both the kids and the staff.  Putting on an event like this for 800 people, and having it be the topic of conversation for days afterwards, is really meaningful.
Please share a fond memory or two about Camp Echo Lake:
As a camper, one of my favorite memories was having campfires with Tony's dad, Morry.

Morry used to do a thing called the Buffalo 'Tro, where he would grill buffalo meat.  He told this story about these special buffalos with zippers on their side that allowed you to pull steaks out without harming any of them.  If Morry said it, you believed it.  I'm embarrassed to say that I was probably 11 or 12 someone tapped me on the shoulder and broke the news to me that it was a made-up story.

I remember Morry reading this story called Casey at the Bat during the campfire.  I found a book about Casey at the Bat when I visited Cooperstown.  I'm the one who gets to read the story to the kids at the campfire nowadays.  The story had such a profound impact on me, so it means a lot to me to be able to read it to the kids.  Hopefully it makes the same impact on them.

Morry was always so fully engaged.  He really was the genuine article.  He knew everyone by name, and he had an ability to entertain like no one else.

I remember a funny story about Morry.  He liked to drive the bus from time to time when we left the camp.  One trip, when we were going to a water park, he told us that we wouldn't be able to go, and that we were going to go to a sewage treatment plant instead.  Of course, we all believed him because he was Morry.

As we drove by the older kids from the camp that were at the park, Morry had us wave goodbye to them to help sell the sewage treatment plant story.  The amazing thing about the experience was that we loved Morry so much that we just went along with whatever he said we had to do.  Obviously, we didn't go to the sewage treatment plant.  Before he circled back to the water park, he pulled into a McDonald's drive-thru and got us all milkshakes.  He had a special way of turning mundane moments into something memorable.