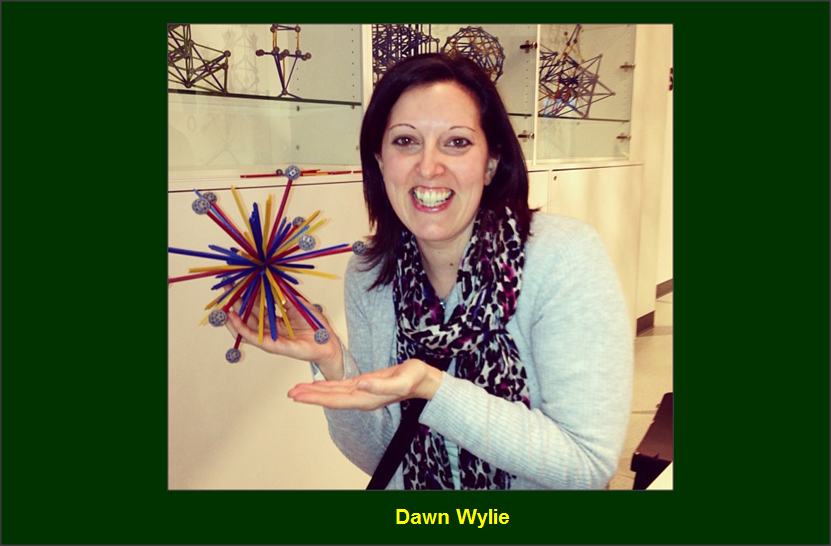 Dawn hails from the UK where she is a gymnastics coach, teaching children between the ages of 4 and 16 at the Torbay Olympic Gymnastics Club.  She has been a member of the club ever since it began in 1982.  This will be Dawn's 10th summer at Camp Echo Lake, and her 5th in the role of Activity Director.  Prior to joining the Head Staff, Dawn was the Gymnastics Head Specialist for five summers.
As the Activity Director, Dawn oversees all of the activity head specialists, making sure that each area is up to Echo Lake's Green and Gold standards.  In addition to overseeing the activity specialists, Dawn works alongside our Program Director (Jacko) to help create the weekly schedules, and also works closely with Glenn Begly to coordinate the inter-camp games with the activity specialists.
How many summers have you spent at Camp Echo Lake, and what brought you here in the first place?
This will be my 10th summer at Camp Echo Lake.  I've always loved to travel, and I had an interest in working abroad after finishing school.  It wasn't until some years later, whilst reading a magazine, that I saw an advertisement looking for qualified gymnastics coaches interested in working in the United States for the summer. I applied through an overseas agency, which is how Echo Lake found me after seeing my application.  This was back in 2006.  I looked at the camp's website and thought that it looked like a great place to work, meet new people and face new challenges.  When the contract to be the Gymnastics Head Specialist came in the mail, I "jumped" at the opportunity to join the Echo Lake staff.
What do you believe makes Camp Echo Lake special for campers and staff?
Echo Lake is a very positive community. From first-timers to old-timers, everyone enjoys being a part of the warm and welcoming Echo Lake family.  Having the opportunity to spend an entire summer together, sharing new experiences and being a part of camp traditions helps to create friendships that will last a lifetime.
How do you spend the 10 months waiting for camp to start?
I work as a coach at my local gymnastics club, which has over 1000 members.  I work with children ages 4 – 16, and I find that everyday events bring back memories of camp.
I always look forward to January, the time of year when the head staff meets up for our planning weekend.  For me, it signals the countdown to the staff arriving for orientation and the beginning of camp. I enjoy being with my Echo Lake friends and campers so much, that for the last three years, I have flown over from the UK to New York for the Echo Lake Winter Weekend at the beginning of March.
What are your hobbies?
Gymnastics, watching sports and traveling
What are your favorite Echo Lake activities?
I like the evening program the best because it is the time of day when the campers and staff are all together. Being a former activity specialist, I really look forward to the evenings because it gives me the chance to be around the campers in a more connected way.
My favorite evening activity as a small group would be "The Mostest."  It's a fun game where the camp is broken up into groups and questions are asked to see how much they know about each other.  It can get very silly at times, but all of the campers get very involved in the game and enjoy themselves.
When we're all together as one big group, I find OTB (off track betting) to be one of the top evening activities.  It is just a mass of energy and excitement.  It's a wacky event that just took off, and now we do our best to make each year better than the year before.
A few years ago, I was involved on one of the events for the first time.  Most events are pre-recorded, but this one was done live.  Jacko and I competed to see who could put on seven layers of clothing the fastest.  The kids were all cheering us on.  I'm very competitive, so it was a lot of fun, especially because I won!  It was great to be involved and in on the competition because it gave me the chance to enjoy the camp experience as I used to when I was an activity specialist.
Please share a fond memory or two about Echo Lake:
One of my fondest memories is when I stepped in at the last moment to join a group of eight campers and three staff members on an overnight camping trip called "The Pike" (paddling, canoes & hiking).  It was my day off when I got the call from the camp asking me to step in for a counselor that wasn't able to go on the trip.  The group of 11-yr old girls going on the trip were the ones that I lived with the previous summer, so I was very happy to be a part of it.
The girls didn't realize that we were actually able to drive around to the campsite.  We packed everything into canoes and paddled to begin our journey and then finished it by hiking to the campsite.  Not surprisingly, the question that every parent dreads hearing – "are we there yet?" – was asked several times during the hike.
We had to work hard to keep their energy and enthusiasm going, but when we finally arrived at the peak, the view was spectacular, and a look of pure joy appeared on all of the girls' faces.  The girls really felt like they had accomplished something, so it was all worth it in the end.  After reaching the peak, we settled in and cooked our dinner over the campfire.  It was one of those camp experiences that are unexpected, but ultimately very rewarding.