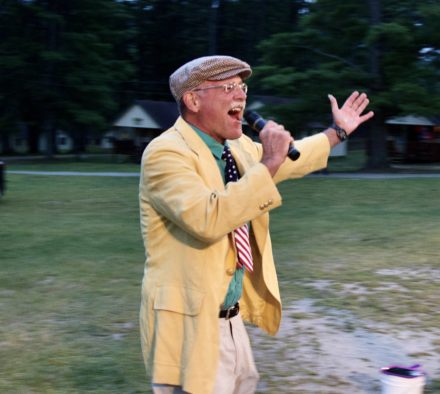 It's a BIG Anniversary year with all things Echo Lake related!  As everyone knows, the summer of 2020 will be our 75th summer!  It was in June of 1946 that my grandparents, Bill and Edith Medine opened the gates to Echo Lake campers for the first time.  We have been carrying on with a passion for young people and the summer camp experience since then!
2020 also makes the 25th year since Project Morry came into being.  Though the vision was HUGE, the program had humble beginnings, with under 200 campers spending four weeks each at the 4H camp in Riverhead, Long Island.  25 years later, Project Morry has served thousands of young people, which includes its summer program, Morry's Camp, now taking place on its own 900-acre property in Glen Spey, NY.
Well halfway between 25 years and 75 years we have another very special marker this summer.  2020 will be Glenn Begly's 50th summer at Echo Lake!  Glenn's first summer was 1970, when I was just seven years old!  Glenn then missed one summer due to military service, so this summer makes 50 summers at "The Lake."
One of the most fun parts of camp is celebrating people.  We celebrate our campers and staff nightly with Fuzzies, we celebrate our new campers and our longevity award winners on the first night of each summer, we celebrate 4n4 campers with "Kid West," and we celebrate each other daily in so many informal ways.
Now Glenn – and all those close to him – will let you know that being celebrated in public is not high on his list of favorite things.  We cannot, however, ignore such a momentous milestone nor the history of service to the Echo Lake community that comes with Glenn's incredible tenure at "The Lake."
To start with, during the summers, Glenn has done just about everything at camp.  Waterfront Staff/Canoe Instructor, Basketball Specialist, Basketball Director, Program Director are among those roles Glenn has had at camp over years.
It is, however, the things Glenn has done outside of those roles that has made him such an important part of Echo Lake.  Glenn has worked pre-season at camp for the better part of the last 50 summers helping get camp ready for our staff and campers each year. Glenn has provided academic tutoring for a myriad of our campers over the years – tutoring that was impactful due to the care and interest Glenn takes with each of those campers.  Glenn has woken up early and stayed up late on thousands of days and nights at camp when needed for any number of reasons. Glenn's instincts when it comes to camp program have had major impacts on what we do at camp and how we do it. Glenn is always first to ask "what can I do to help?" … no matter how big or how trivial the job or need may be.
Every day at camp – and in life – Glenn role models service to others, work ethic and honesty.  His lifelong dedication to Echo Lake – and all of our campers, staff and parents – has been completely unique and extraordinary.  With pre-emptive apologies to him, we are excited to celebrate Glenn just a little bit more at camp this summer!