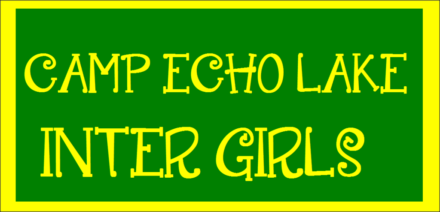 Over the course of the past three weeks, you could find any Inter girl at any given moment wearing beaded and string bracelets. Similarly, you could also find many Inter girls working hard to create these bracelets to give to a friend, sibling or counselor. Our Inter girls are very proud of their "camp wrists" which are filled to practically their elbows. To me, these bracelets not only represent friendship but also the importance of connection. At camp, we value the importance of building connections with each other and the community. Connection means finding and seeing the good in each other. Connection means noticing someone who needs a little extra help and lending a hand. Connection means truly getting to know each other and acknowledging the unique strengths that each of us bring to the community.  From day 1 of the summer, the Inter girls have built, renewed and strengthened their connections with each other.
When Visiting Day ends, we rush to the lower soccer field for a candy party. But of course, the party doesn't stop after the candy party… we keep going all night long! Halloween was another great example of how the Inter girls have continued to build connections with each other. Each group decided on a theme that allowed all the girls in the group to participate and unite together. The Lower Inter Girls dressed up as cops and robbers. We saw a lot of creativity as some took the theme to the next level by dressing up as a police car and a police dog. The Upper Inter Girls West rocked their military costumes all night long. The Upper Inter Girls East raised the bar as many of them dressed as athletes. It was overall a great night that allowed the girls to unite together behind a common theme.
At the end of each day, all Inter girls participate in a "circle up" with their group. Each group runs their "circle up" a little differently, but the main goal remains the same: connection. Circle ups are a fantastic way to end the day, because it allows each group to have a final positive moment together rather than in separate bunks. Girls give each other shout outs, talk about the positives in the day, and go over the schedule for the next day. Each camper is allowed to speak their truth and present any ideas or ways they can make their group better. Overall, circle ups have been a really powerful connection builder and we look forward to utilizing them more in the coming weeks.
As week 3 comes to a close, I want to say how wonderful it was to meet all of the parents on Visiting Day. I look forward to continuing to build strong relationships and connections with all of the Inter girls in the remaining weeks of the summer.