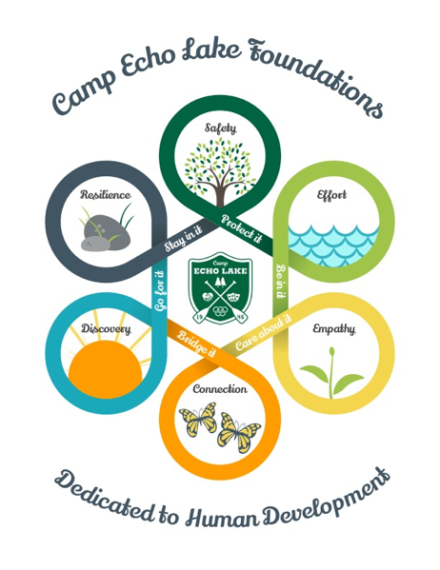 Last month, we introduced to you all  Camp Echo Lake's Foundations.  This week we are highlighting one of our foundations, effort.
EFFORT: "BE IN IT"
As Echo Lakers we take initiative, participate, and work hard.
Why?  You get out what you put in.  Without effort, there is no chance for growth.
Please enjoy Sam's blog post about effort and learn more about why it is such a crucial part of what we promote at CEL.
"Hard work will always beat talent if talent doesn't work hard" were the words that were uttered repeatedly to me by one of my most influential soccer coaches.. The team was a representative team that brought together players from across the county and would compete against similar squads from all over the country. Despite being a group of extremely talented soccer players, it was instilled in us that we must out-work our opponents in order to ever get close to success. We carried this mantra through all of our training sessions, games, and team meetings and it culminated in a championship winning season.
I hadn't given this phrase much thought until my first summer at camp, in 2012, when I was a soccer activity specialist. I was coaching the 6U Soccer Team in a tournament and were due to face Camp Baco. Baco had a reputation for being athletic and competitive, and their performances earlier in the tournament had seen them coast to comfortable victories. Ahead of our game with Baco some of our boys were nervous; and rightly so. For some,this was their only experience of competitive soccer. Before the game I read the quote above to them and spoke about the importance of trying their best despite being up against, what were perceived to be, more talented athletes.
The result of the game was insignificant. Every member of that squad left the field knowing that they had given their all, and for some of them, they had learnt a valuable life lesson. Despite it being something they were wary of, despite it being an activity that they weren't necessarily committed to, and despite being up against a considerably more talented team, that team worked hard and were dedicated to the cause. We didn't win that game but it wasn't for a lack of effort.
Effort is defined as the result of an attempt. It's not about how many baskets you make, it's not about producing a beautiful piece of art and it's not about performing a near perfect gymnastics routine. It is the act of attempting all of these things and more. Camp is the perfect environment for campers, and staff alike to step out of their comfort zone and throw themselves into brand new experiences. We celebrate the act of effort by nominating those members of our community who try hard at something for "fuzzies" and we make it abundantly clear that the only tools to being successful at camp are to be nice and to try your best.
Winston Churchill once said "Continuous effort – not strength or intelligence – is the key to unlocking our potential". Camp gives us a unique perspective on just how important it is 'to put in the effort'.  You get to really appreciate the journey that campers go on, the time they dedicate to accomplishing new skills, and the barriers that they break down to overcome fears. There are not many environments where the the time taken to accomplish something is celebrated more so than the actual achievement.
Effort is the only thing that we, as individuals, can take full control over. Effort is about working hard, it's about making mistakes and learning from them, it's about taking risks and it's about showing grit and determination to achieve your goals. One of the most obvious displays of effort at camp is the swim test. Every summer, campers have their swimming ability assessed by our Waterfront Staff. Some campers will try for their deep level straight away, and some will be determined to work towards it. The effort those campers display is impressive. They give up time during rest hours to re-test or take extra swim instruction and are not deterred by failing to meet the deep test requirements on multiple occasions. Then, when they do pass their deep test, the elation they display makes all their effort worthwhile. The effort that was put in allowed them to go on the toys in the deep section, go on water ski trips but most importantly it taught them not to give up.
If you think of your favorite sports star, pop star, or even politician – they didn't get to where they are based on their God given talent alone. Over the course of their careers they will have faced a series of obstacles which they will have overcome through sheer hard work and effort. This summer I challenge everyone to try something new. Go on a Trek trip, try for your deep swim test, sign up for a sports team, or audition for your divisions production. Whatever you do, make sure you give it everything you've got!!