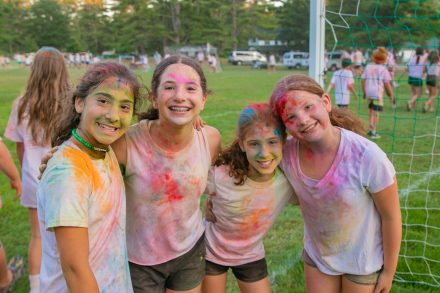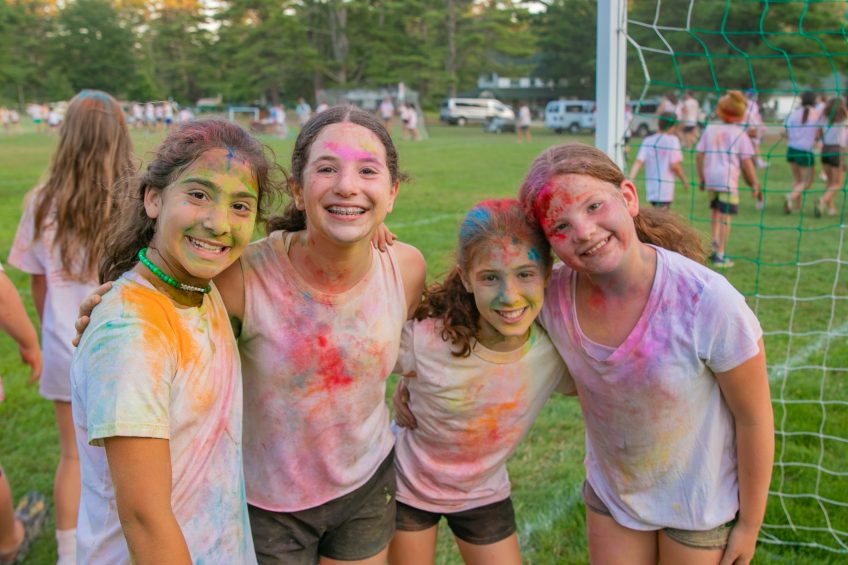 The festive holiday and reunion season is upon us and we want to talk to you about CBGB. Many parents reading this may think we are talking about CBGB's (Country, Bluegrass, and Blues) the club in NYC that launched many punk, new wave, rock, and folk music groups in the 70's and 80's. While fun to talk about, that is not the CBGB we are referring to. Our CBGB is Connection, Belonging, and Giving Back. We have read many books, articles, and studies. We have spent decades of dedication to human development with hundreds of campers and staff each summer. When you boil down all the advice, self-help, and research, a person's happiness comes down to having positive connections, feeling a sense of belonging, and being able to give back and give of yourself to others.
Connection, in its deeper sense, goes beyond just "knowing" someone or having something in common. That's the start. True connection is when people who know each other and have something in common begin to develop a sense of trust, care, safety, and joy from being together. It's when you feel yourself drawn to spend time with that person, share thoughts with that person, and truly "see" that person for who they are. And they feel that way about you too. Connection is what gives us a sense of who we are, who we spend time with, and helps us feel that we matter, not only to ourselves but to others. True connection happens not out of obligation but out of authentic desire to see and be seen by another person. Connections grow and change over time but the bond is there and that imaginary string that ties people to each other grows stronger as the connection deepens. Feeling connected to others brings happiness.
Belonging is a feeling of being happy or comfortable as part of a particular group and having a good relationship with the other members of the group because they welcome you and accept you. A sense of belonging is one of humanity's most basic needs. Having a connection to another person or two is important for happiness as it allows you to see and be seen but belonging is what gives you a sense that you are part of a larger group and that you have value in that group because the members accept you for who you are, not who they want you to be or who you think you should be, but for who you are. Belonging gives us a sense of something larger than ourselves, that we are not alone, that together with the people you connect with you have a larger identity, purpose, and set of values. When you feel like you belong in a group with shared values and beliefs and you are accepted and celebrated for who you are, that brings happiness.
Giving back, or giving of yourself, is the act of doing something for someone else because it brings them happiness. We think that even if you have connection and belonging, you truly cannot be happy if you don't find ways to give to others, give of yourself for someone else, and make a positive difference for another person. There are so many ways to give back. You can start a fundraiser, donate to others, stand up for someone who is being teased, do something kind and helpful without being asked, offer a smile, a hello, a high five. You "pay it forward." When you can fill another's bucket, you fill your own too. That's just how it works. When you give back to someone else, that brings happiness.
On Sunday December 4, Camp Echo Lake held its first in-person winter reunion (for families who were at camp in Summer 2022) since December of 2019. To see our hundreds of campers and camp families hugging, laughing, talking about camp, and showing their green and gold spirit was unbelievably heartwarming. We saw the connections between campers, campers and staff, alumni parents, and even between parents with each other and with camp. You don't have to be an Echo Lake camper to create Echo Lake connections, staff and parents certainly do too. There were fabulous connections that started with knowing each other because of camp, but now have grown to develop a sense of trust, care, safety, and joy from being together. You see each other and are seen. The connections were everywhere. We felt the belonging within our Camp Echo Lake family as many people wore CEL or green and gold gear, we sang our CEL songs, we got excited about the pictures of camp from 2022 and the plans to make camp even more incredible in 2023. Everyone in that room belongs to the CEL family and is seen and valued for who they are. We also gave back. CEL and our CEL camp families raised $11,768 for Project Morry. We gave summer photos, yearbooks, and reminders of the fun we had at camp. We gave hugs and we celebrated lost teeth and birthdays, and we gave our camp love and camp spirit to each other. That was true happiness.
There is a quote from the fantastic movie, Love Actually, that "love is actually all around us." We believe that is true, but love is all around us because of Connection, Belonging, and Giving Back, CBGB. We certainly saw, heard, and felt it at our CEL Reunion. So, in the festive spirit of the holidays, and in the Warm Inner Glow of Camp Echo Lake, we ask each of you to find ways to connect with others. Even if they are not your best friends. We ask each of you to create feelings of belonging among your family, your camp friends, the people around you by accepting people for who they are and valuing them as part of your group. We ask that you find ways to give back or give of yourself as an anchor to say that everyone deserves to feel happiness and joy and that the best gift you can get is the one you give to others out of sheer generosity and expecting nothing in return. We hope you feel as inspired as we do from our winter reunion. We hope you feel your CEL connections, belonging, and pride in giving back.
The holidays shine a bright and sparkly spotlight on the importance of CBGB. The CEL reunion does too. In fact, so do the seven magical weeks we are together at camp. What we hope for each one of you, parents, campers, staff, and alumni is that every single day, you find a way to create connection, feel a sense of belonging, and can give back. You can call it the holiday spirit. You can call it the Warm Inner Glow. No matter what you call it, connection, belonging, and giving back is where happiness comes from and what every person needs all year round. That is our holiday wish for you! Healthy and happy holidays to all and a wonderful new year to come!