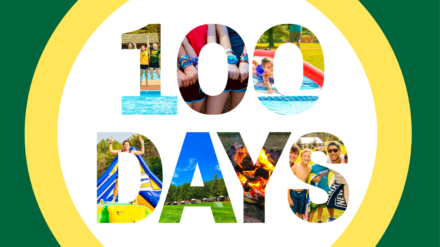 With only 100 days left until Summer 2020 begins at Camp Echo Lake, we can hardly wait! We recently asked our camp community what they're most looking forward to this summer, and were blown away by the response! Here are some of the things that our campers and staff are excited about:
Seeing my friends – Jacob, LIB

Campfires – Juan, former Head Counselor

S'more Campfires – Laurie, Director

Arrival Day – Ciaran, Group Leader

World Cup day! – JC, Head Baseball Specialist

Seeing my camp friends!!! – Elizabeth, UIG

Reuniting with my family – Taylor, Camper Specialist

Going out west! – Ellis, 4n4

Trying more new things – Ella, LVG

Being with my best friends for 7 weeks! – Ella, LVG

TRIBAL – Ava, LIT

Making closer relationships with everyone on my trip – Maddie, 4n4

Going to CEL and having fun and trying new things with my friends – Will, LVB

4N4!! – Jack, 4n4

Seeing my friends – Talya, LVG

4n4!!! – Rachel, 4n4

Having the most amazing summer at camp, AND going out west with my best friends!! – Paige, 4n4

Special Day and arrival day – Paul, Camper Specialist

Friends – Maya, UIG

Just for summer to begin – Angelo, Group Leader

Being with my friends – Annabel, UIG

Being away from home – Cobie, UIB

Color run and new friends – Ryan, FB

S'MORES – Cameron, LIT

ONE TRIP – Gabe, 4n4

Finding out which group we have for the summer!! – Chelsea, Fine Arts Specialist

Seeing my camp friends!! – Chloe, UIG

The camp air filled with excitement! – Dara, Fine Arts Director

Meeting new staff and making more memories – Andrew, Camper Specialist

Making new friends – Julia, Camper Specialist

Visiting! – Julie, former Head Counselor

Making new pals! – Angeliqua, Media Specialist

Meeting everyone and swimming in the lake! Also singing together – Lucy, Waterfront

Experiencing something new! – Eamonn, Camper Specialist

Everything! – Alba, Dance Specialist

Meeting new people and forming friendships! – Keylee, Softball Specialist

Seeing all my friends – Diego, Camper Specialist

I can't wait for Group Sing! – Amanda, Head Counselor

I'm excited to be in the one place where I don't feel stressed by the outside world, and can just live and feel like myself – Amy, Group Leader

I'm looking forward to Tribal – Stu, Senior Village Director

S'mores! – Conor, Head Counselor

Boys Camp Lineup – BCJ, Head Counselor

Apache relay! – Jake, LIT Director

Camper arrival day! – Kelly, Main Village Director

Group sing! – Molly, Head Counselor

Slip n' slides! – Frankie, Program

Meeting new friends – Hailey, UJG

LIT! – Julia, LIT

LIT summer with my best friends – Amanda, LIT

Seeing my friends and seeing my counselors – Aiden, UIB

Getting to be with my besties, and lacrosse! – Samantha, UIG

Leading tribal!!! Can't wait to be an LIT! – Talia, LIT

Summer with my best friends – Sienna, LVG

Going out west – Sammy, 4n4

Friends – Maya, UIG

I'm excited to play spike ball – Will, Program

Group sing! – Sophie, Program

Reuniting with Linter Village – Henry, UIB

Looking forward to trip days and special days! – Marcus, Head Counselor

Touring the country with another group of amazing young people! – Cal, 4n4 Head Counselor

Can't wait to meet the prospective campers and families coming to visit this summer and share all the amazing things about CEL with them!  And, of course, I can't wait to help make s'mores at camp fires! – Debbie, Prospective Parent Liaison
What are you excited about? If you'd like your answer to be added to this post, email it to office@campecholake.com!